The Birth of Sturdy... Decorative Driveway Reflectors
One dark evening while driving from Winston Salem to Linville North Carolina we started counting reflectors. Most were red, some were blue, many crooked and bent. The first to see one would yell, "REFLECTOR." About 10 miles or 134.7 reflectors later a light bulb came on. During this time we had never seen a decent looking, decorative, functional reflector. ...started brainstorming and came up with some great designs. On a trip to Washington D.C. we ventured to the U.S. Patent and Copyright offices and locked in our ideas. The world now has a decorative yet functional reflector to mark driveways, ditches, culverts and homes. I did a lot of R&D to find the most reflective tape, plastic reflectors and establish optimum stability. You can now provide your customers with the very best reflector on the market. Enjoy the sales rush! You will always find your way home with our stylish reflectors. In 2012 we have added our newest product Finial Mailbox and Post Finial Reflectors, Scroll to bottom to see.

See side bar to left for specific designs.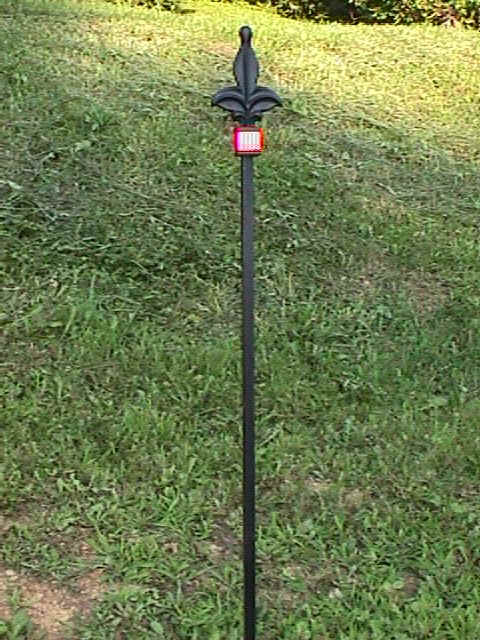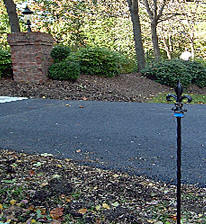 Bottom of Reflector Bar shaped for easy installation by stepping on bar to insert into ground.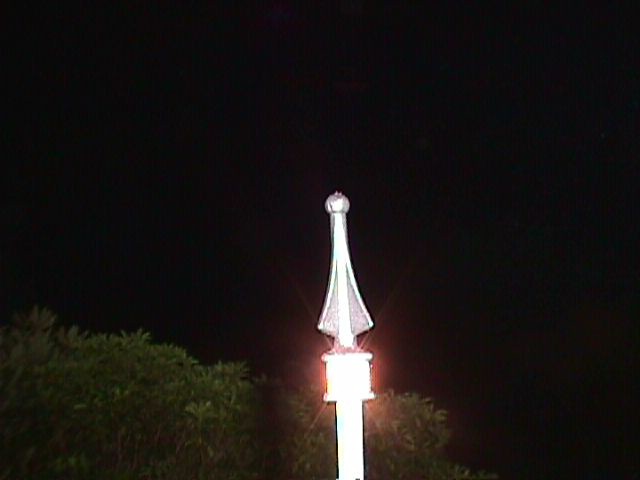 see our new stick man safety reflectors ....Just click on the stickman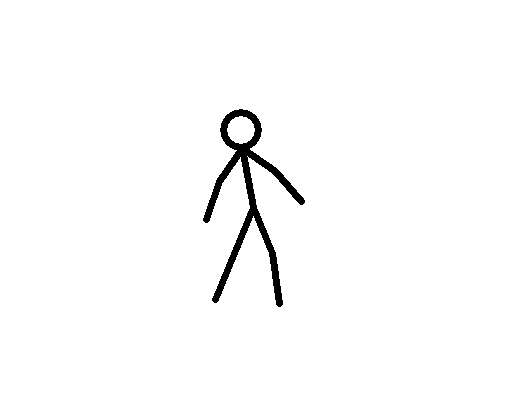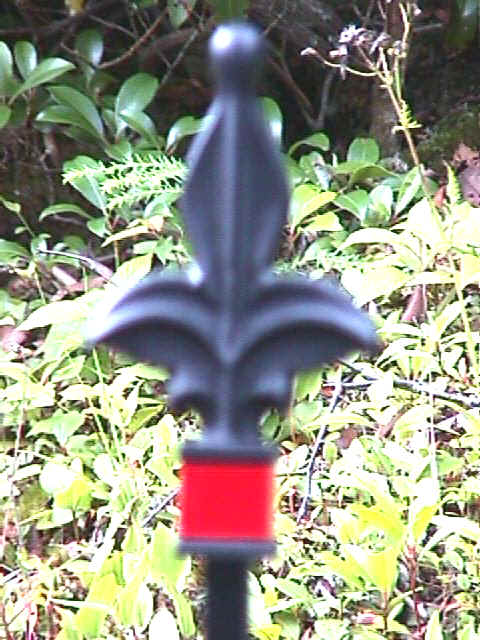 Note:

Do place reflective markers at front edge of lawn to help plow drivers distinguish road edge and not plow up lawns. In the absence of such markers most Townships are not responsible for any damage to property.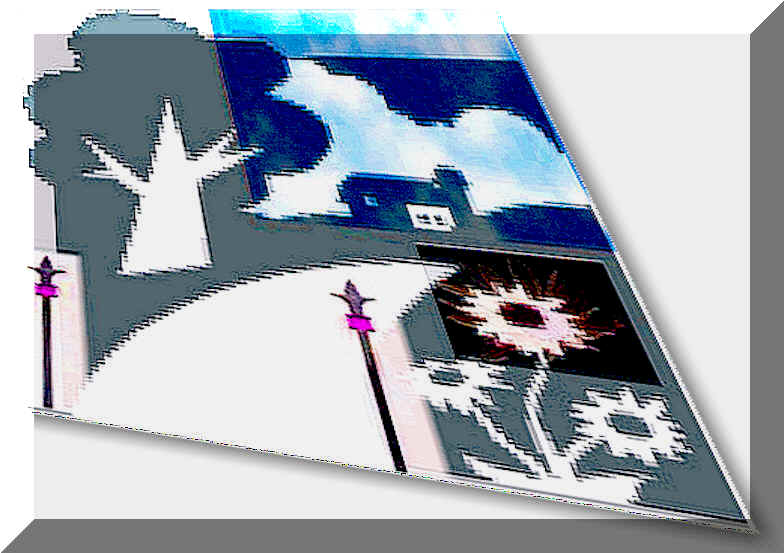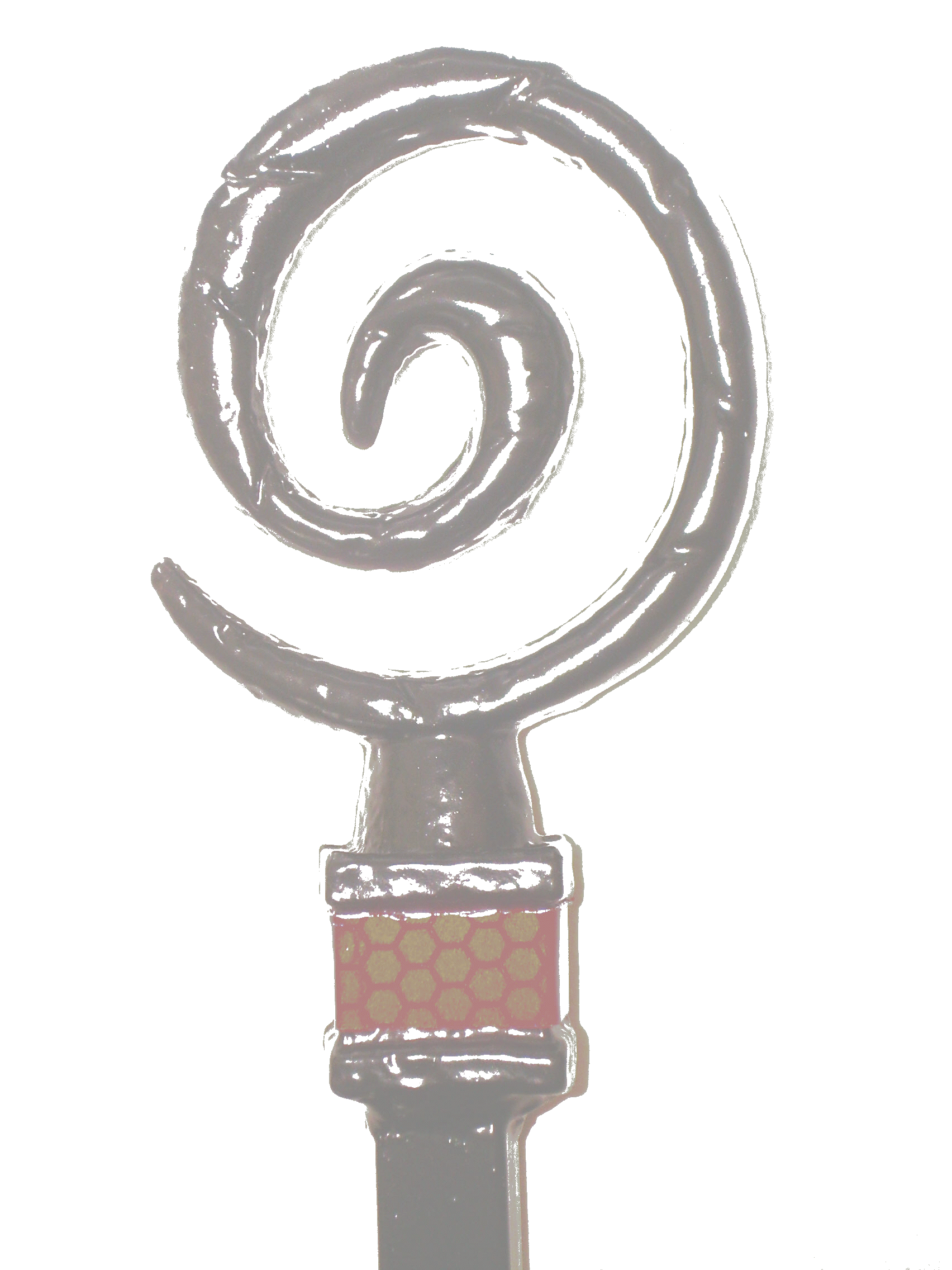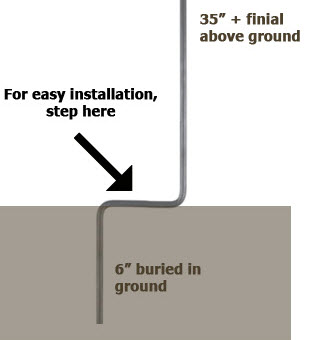 News Release

Driveways Can be Marked With Blue or White Reflectors

Detroit Lakes, Minn—The Minnesota Department of Transportation (Mn/DOT) advises the public to use either blue or white reflectors when marking driveway openings next to a roadway.

Red or yellow reflectors SHOULD NOT be used because drivers on the road could confuse them with motor vehicle lights.

When marking driveway openings along a roadway, please follow these guidelines.

Reflectors should be either blue or white in color.
Use double-sided reflectors and position them so they can be seen from both directions of travel on the roadway.
They should not be put on mailboxes or permanent posts of any kind and be no higher than five feet from the ground.
Reflectors should be placed at least 12 feet away from the outside edge of the shoulder on the road to reduce the chances of being covered by snow when the road is plowed during the winter.
To Store

Click on Picture below for more information and Pictures
Description
Dimensions

Reflector Colors

Price
To Store

Small Finial Reflector

39" H x 4" W at base

Weight 4 lb

Red

or

Blue

$

14.25

Medium Finial Reflector

39" H x 4" W at base

Weight 4 lb

Red

or

Blue

$14

.75

Large Finial Reflector

Red

or

Blue

$15.50

Bishop Style Driveway Reflector

Red

or

Blue

$19.95

Leaf

Style Driveway

Reflector

Red

or

Blue

$19.95

@ Sign Driveway Marker

41" H x 11" W

Weight 6 lb.

Red

or

Blue

$17.95

Acorn Reflector

41" H x 11" W

Weight 6 lb.

Red

or

Blue

$19.95

Cast Iron Fish Reflector

41" H x 11" W

Weight 6 lb.

Red

or

Blue

$19.95

Stick Man Driveway Marker

28" H x 14" W at base

Weight 8 lb

Red

or

Blue

$

32.95

Available in Black or Bright Yellow

Fish Reflector

41" H x 11" W

Weight .8 lb.

Red

or

Blue

$

16

.95
New Mail Box/Post Reflector

Description

Dimensions

Reflector Color

Price

To Buy

Small Finial Mail Box & Fence Post Reflector

(1" Wide x 5" Tall x 1" Deep) Including 1" for small 1/2" Square Post with screw that attaches finial to post. Weight: 1/2 LB.

Red

$7.25

Normally $9.00

Introductory price $7.20

Blue

Medium Finial Mail Box & Fence Post Reflector

(2" Wide x 5 1/2" Tall x 1" Deep) Including 1" for small 1/2" Square metal post with screw that attaches finial to post. Weight: 1/2 LB.

Red

$7.50

Normally $9.25

Introductory price $7.40

Blue

Large Finial Mail Box & Fence Post Reflector

(3 1/2" Wide x 6 1/2" Tall x 1" Deep) Including 1" for small 1/2" Square Post with screw that attaches finial to post. Weight: 1/2 LB.

Red

$7.75

Normally $9.50

Introductory price $7.60

Blue
Contact Information: Bruce Dyak
Telephone: 828-733-1077

FAX :
Postal Address: P. O . Box 41 Pineola, NC 28662
Electronic mail: Gardenmetalwork@yahoo.com