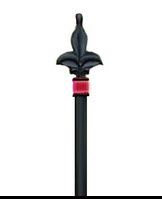 Finial Reflectors are 39" high including 6" ground stake. Boldly marks your home entrance with a Fleur De Leur, culverts, drainage ditches and cliffs safely marked. Click on picture for night view!
Reviews
|
Read all reviews
Featured positive reviews:
Excellent product
06/29/2020
I've ordered these before and love, love, love them! They are beautiful, durable and strong. I had to order again because a semi truck backed over one of them making a delivery to my house. The pole/spike was so strong it didn't even bend, and it was caught in between the double set of tires. If I could have found the finial that broke off, I would have been able to glue it back together (but it must have still been between the tires)! I just ordered two more for good measure! I love them, they're beautiful and stronger than any other I have ever seen!
Featured negative reviews:
Cheap plastic
02/04/2022
The Fluer De Luer on top of the marker is cheap plastic. If I would have known, I wouldn't have made the purchase.