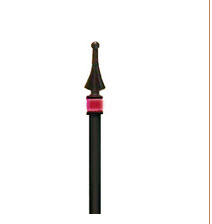 Small finial markers are 39" high including 6" ground stake. Extremely reflective. Boldly marks your home entrance, culverts, drainage ditches and cliffs.
Reviews
|
Read all reviews
Featured positive reviews:
Good product
02/13/2021
We bought 5 markers, and they look great. The only reason that I rated it as a 4 is the installation. There is no indication on the website that there is a kink in the bottom of the marker, and the tip is blunt rather than sharp. It was challenging to install it, even with good instructions. Overall, though, we are happy with the purchase.