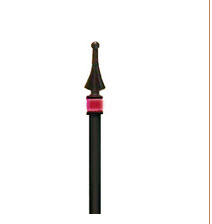 Small finial markers are 39" high including 6" ground stake. Extremely reflective. Boldly marks your home entrance, culverts, drainage ditches and cliffs.
Reviews
|
Read all reviews
Featured positive reviews:
Classy looking!
09/20/2022
After years of using tacky big box store reflectors to protect my Long driveway I was so happy to find these classy looking reflectors. I have teenage kids and their friends have difficulty backing up the length of my driveway :)!! These have definitely helped and they look so much better than the ugly industrial reflectors. They are good heavy quality made to last.