Metal Trellises
Vertical Gardening aid

The best thing about our Metal Garden Trellises are that they look great in the Spring, Summer, Fall and Winter.
Our unique aluminum trellises never rust!!! Custom designs and configurations welcome, brackets can be made at various widths and bolt together designs for large walls.
New Modern Cubism Aluminum trellis
Click on trellis for more Information
4x8 and 2x8 grid trellis on arte' moderne' home of Kelleen, Long Island NY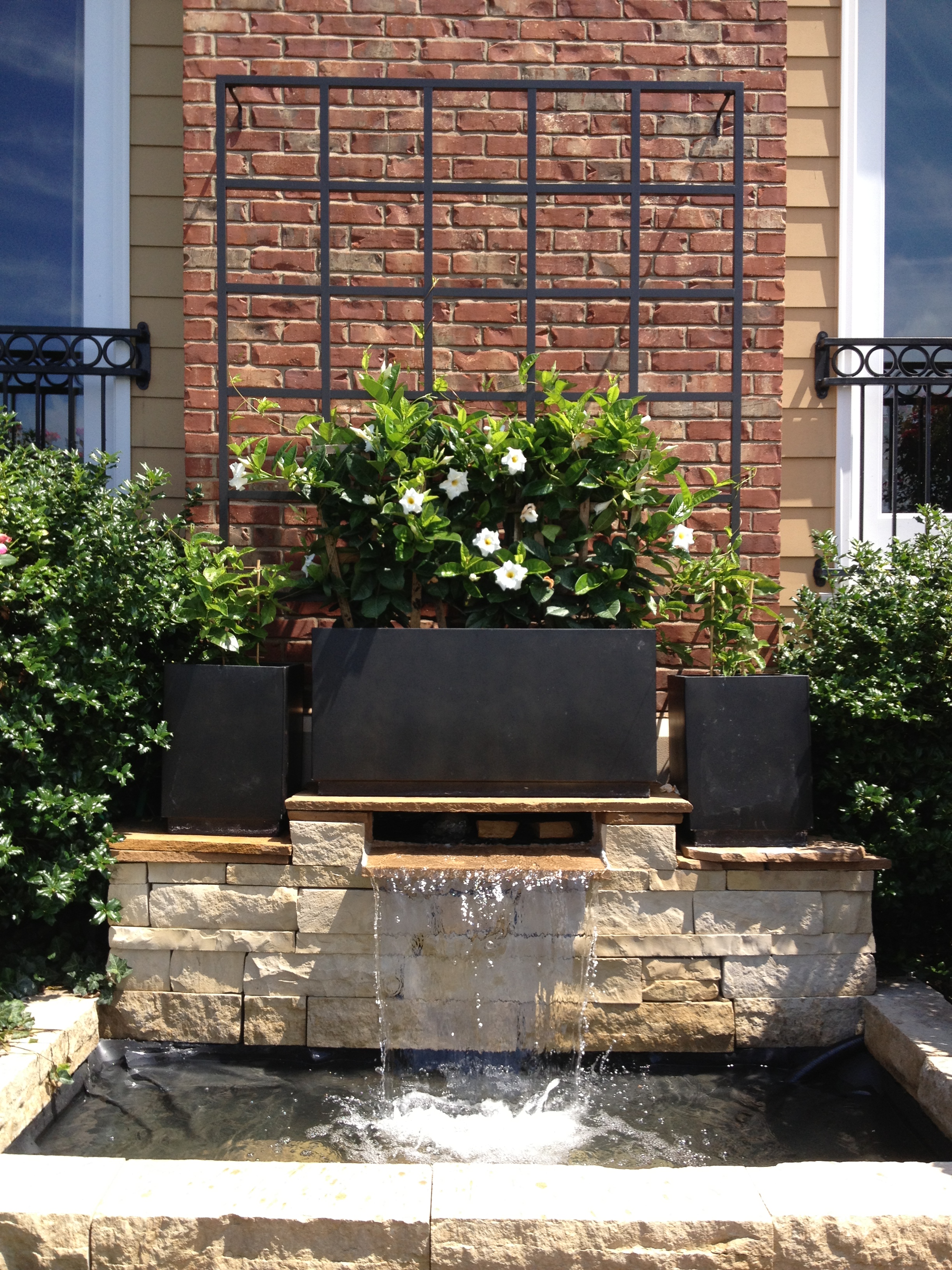 Rick Starke in MO 5' x 5' Textured black grid trellis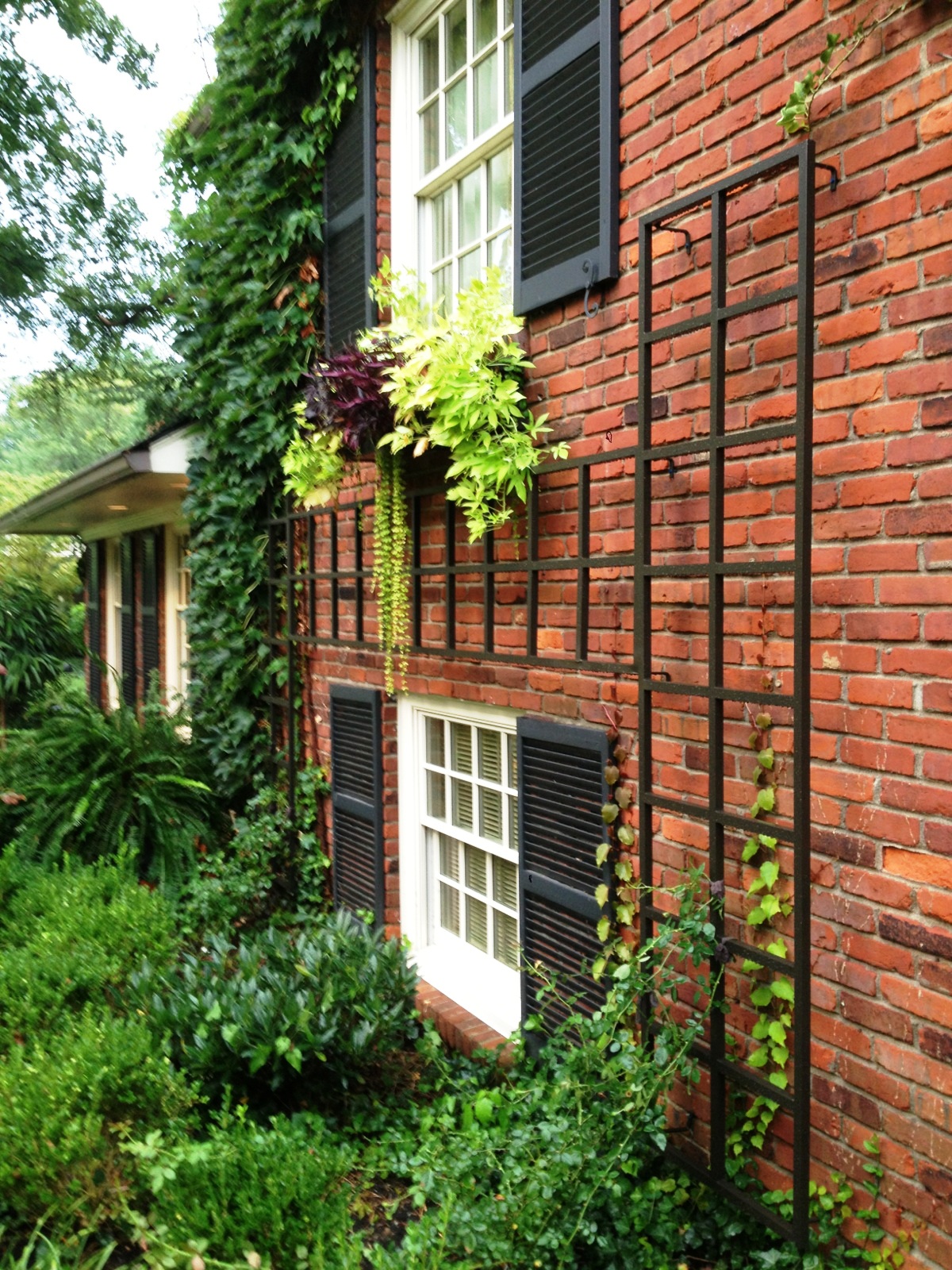 Mark Bird of Louisville designed three trellises that hook together to allow his plants to grow between his windows.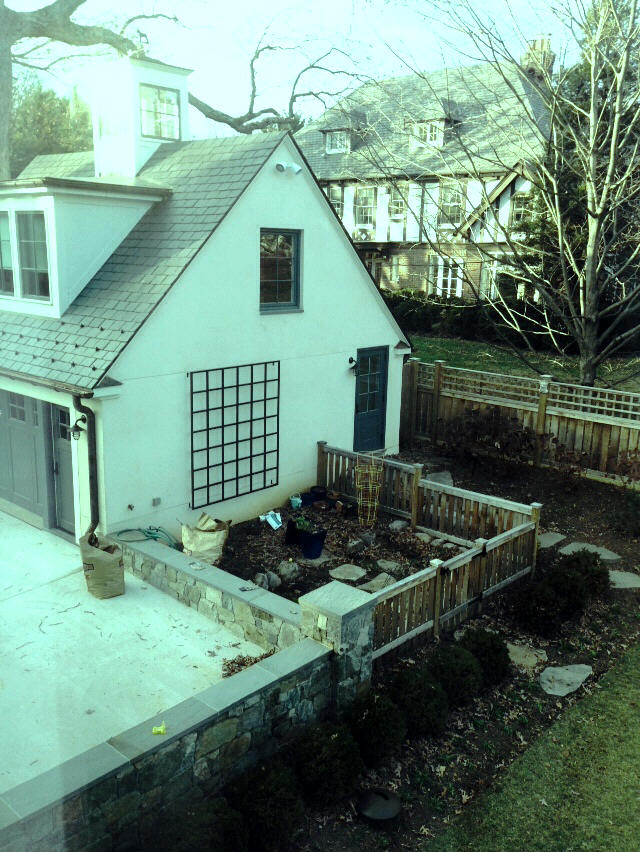 Winter with Linnaes' 6' Wide x 7' Tall Aluminum Grid Trellis in Bethesda MD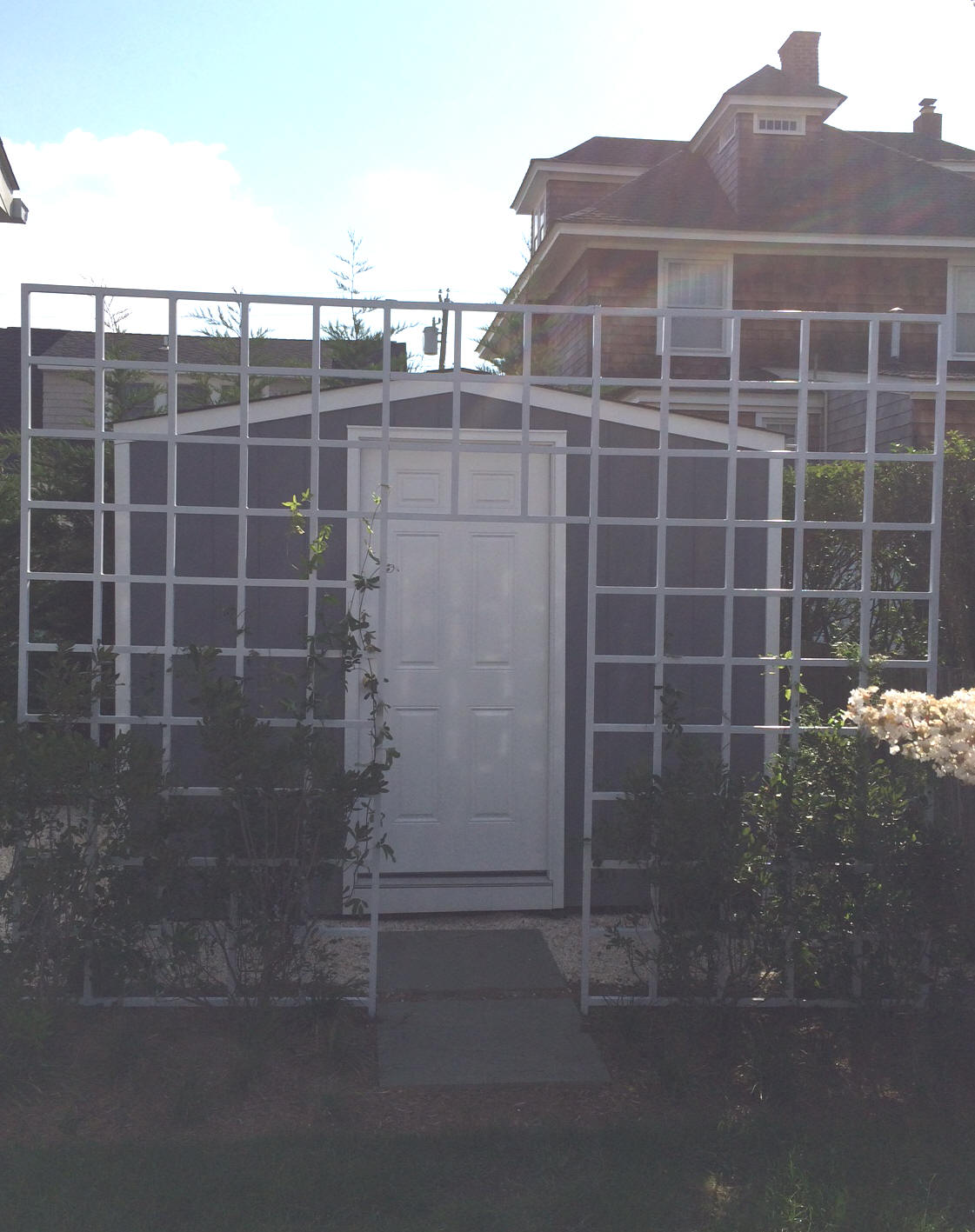 On the Beach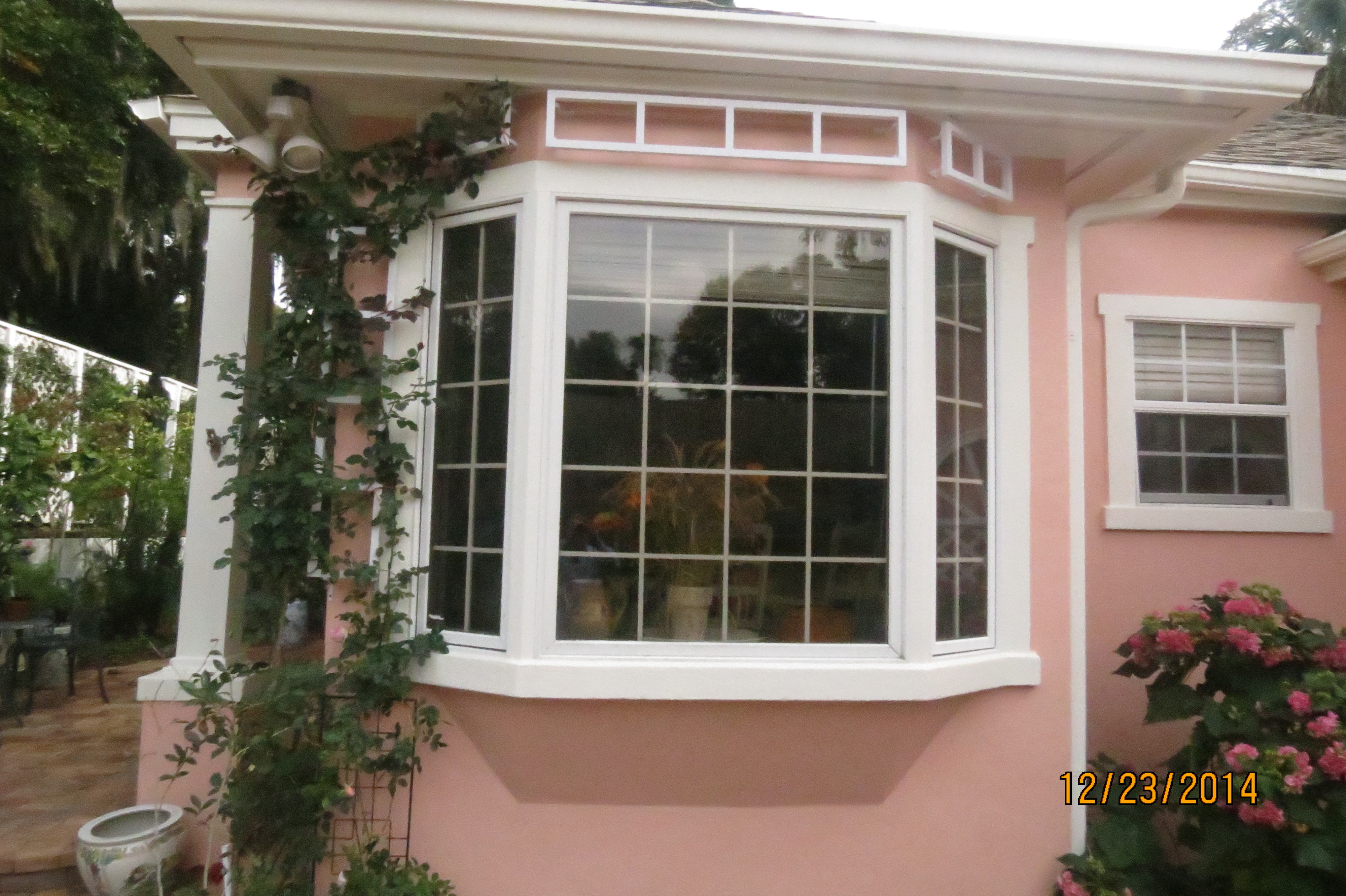 Custom over the window trellises for Herve in Mt. Dora FL
200 lb Welder scales grid trellis and both are undamaged!!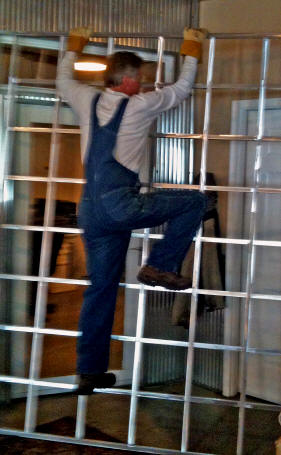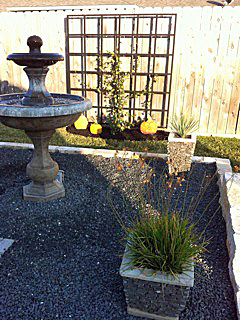 Tom Franceshini 6x6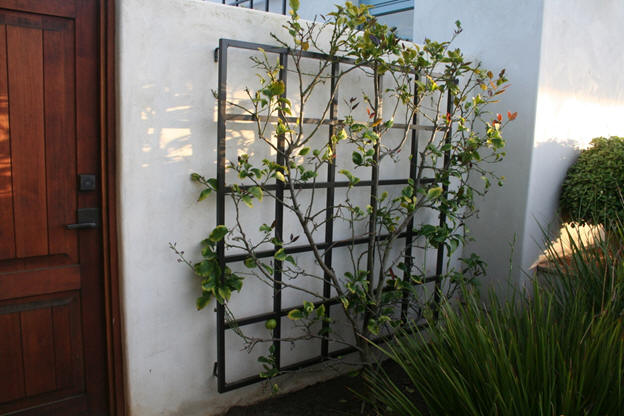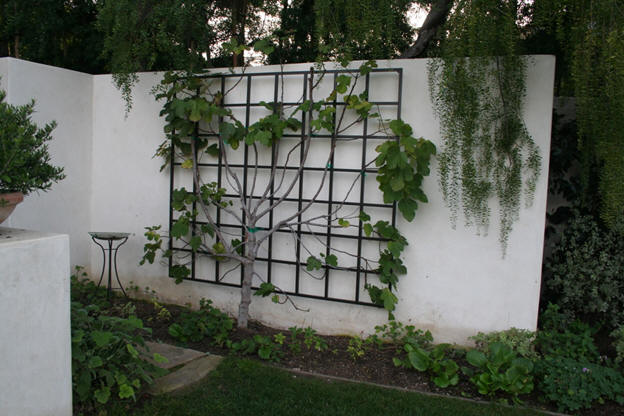 5' x 8' Aluminum Grid Trellis with lemon tree and a 8' x 7' Aluminum grid trellis made for a rainville design studio a terrific Landscape Company in Redondo Beach CA
______________________________________________
rainville design studio
landscape design + planning
1632 aviation boulevard
Redondo beach, California 90278
tel. 310.863.4367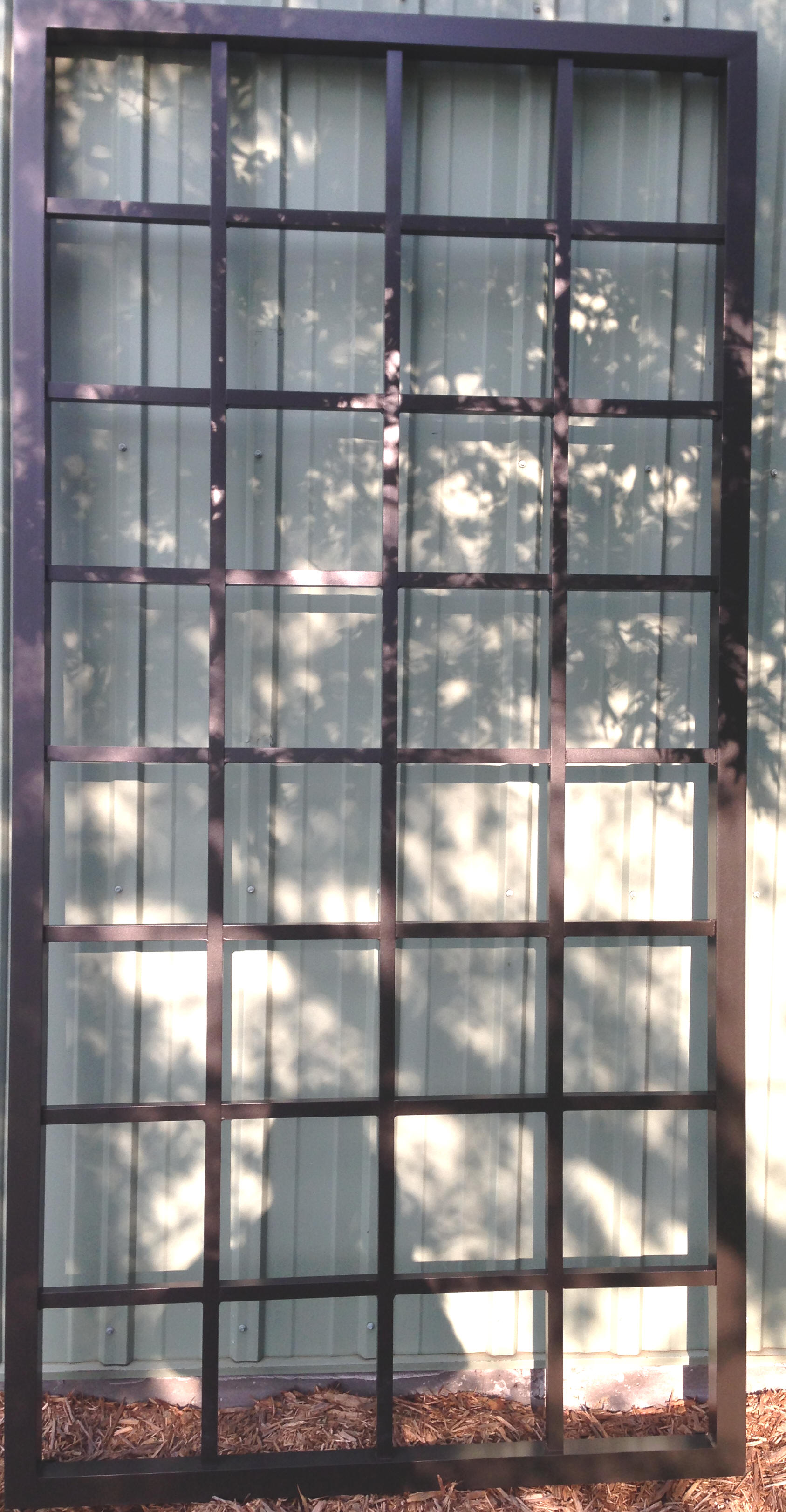 4'x7' Aluminum Grid trellis with 1" square bars Call for pricing
New Flat Slat Grid trellis
4" spaces 2"x2" frame 1.5" slats x 1/4" thick
Available Colors: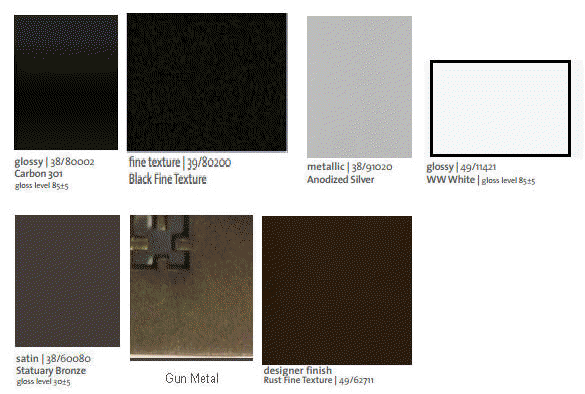 Click on Picture below for pricing and additional information.
Aluminum Aluminum Aluminum Steel
Sunflower Scallop Fan Tudor
Aluminum 2 x 8 Wall Trellis 4 x 8 Wall Trellis (Custom sizes and designs welcome)
Pictured to the left is a trellis with 1" frame and 3/4" grid material.
Aluminum Fence Style Trellis Aluminum Trellis Arched
Steel Cathedral Trellis Aluminum Art Deco Trellis Modern Cubism Trellis
Parisian Trellis Bocelli Trellis
Obelisque Border Fence Edging
Greco Trellis Woman Trellis Fence Trellis
Savannah Trellis Plain Jane Trellis Fan Trellis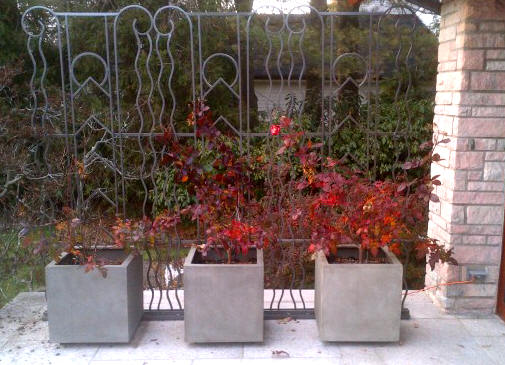 Ginas' Custom Art Deco Trellis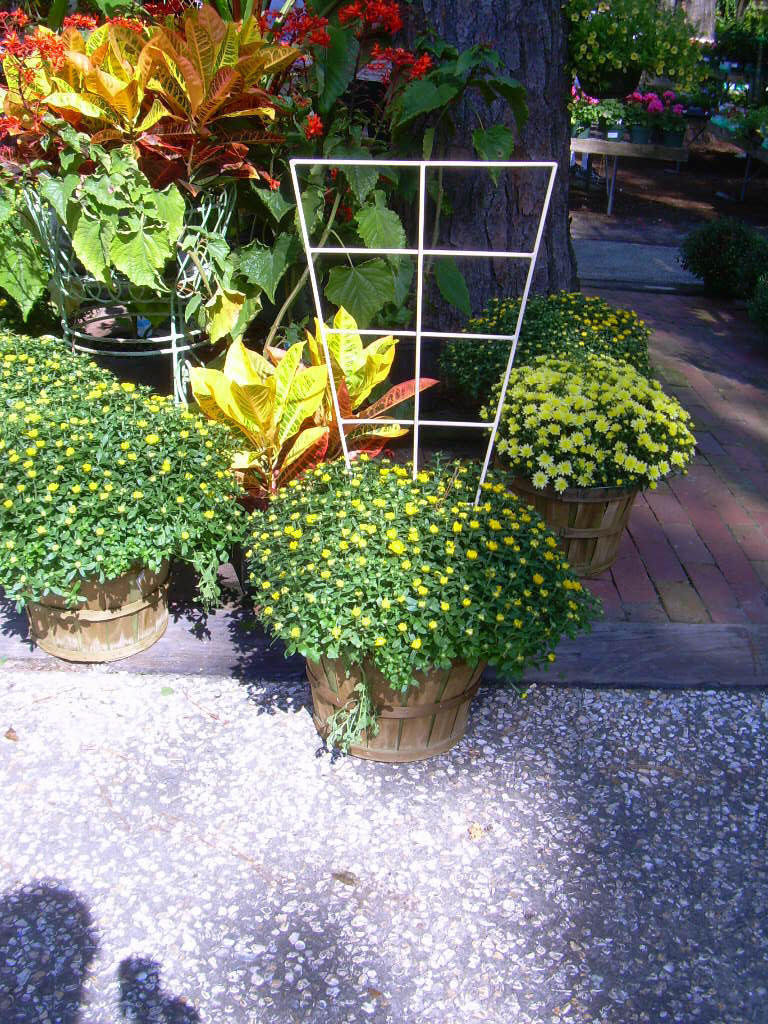 For trellis Mounting Guidelines
because of the large size of our trellis' many will ship via truck only.
Click on sidebar to get details on each trellis
Our Trellis brackets were designed by a NASA space shuttle engineer.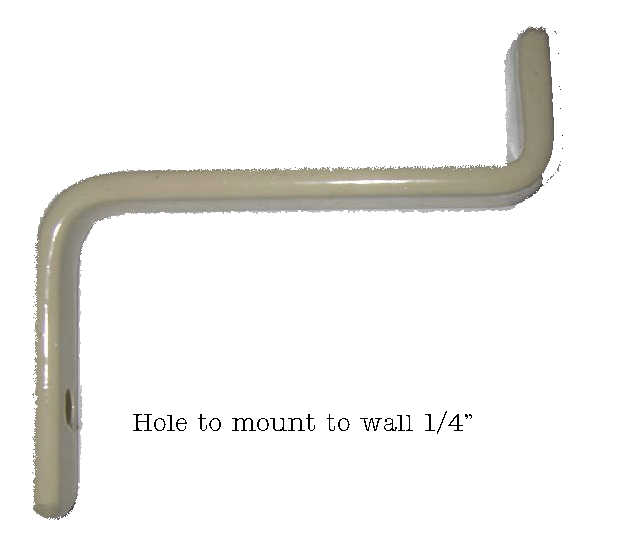 A couple years ago we were welding our trellis brackets to our trellis', (just like everyone else) this would cause breakage and bending during shipping along with stacking problems in the warehouse, the trellis' would get tangled together and the brackets would interlock causing a real mess. Upon discussion of this problem with Archie McMannen a honest to goodness NASA engineer he came up with some novel solutions to our problem.
Archie solved all our mounting & shipping concerns with a simple interlocking design.
1. A 1/2 " x 1" bracket holder is welded to the back of the trellis wherever an attachment point is needed. This looks like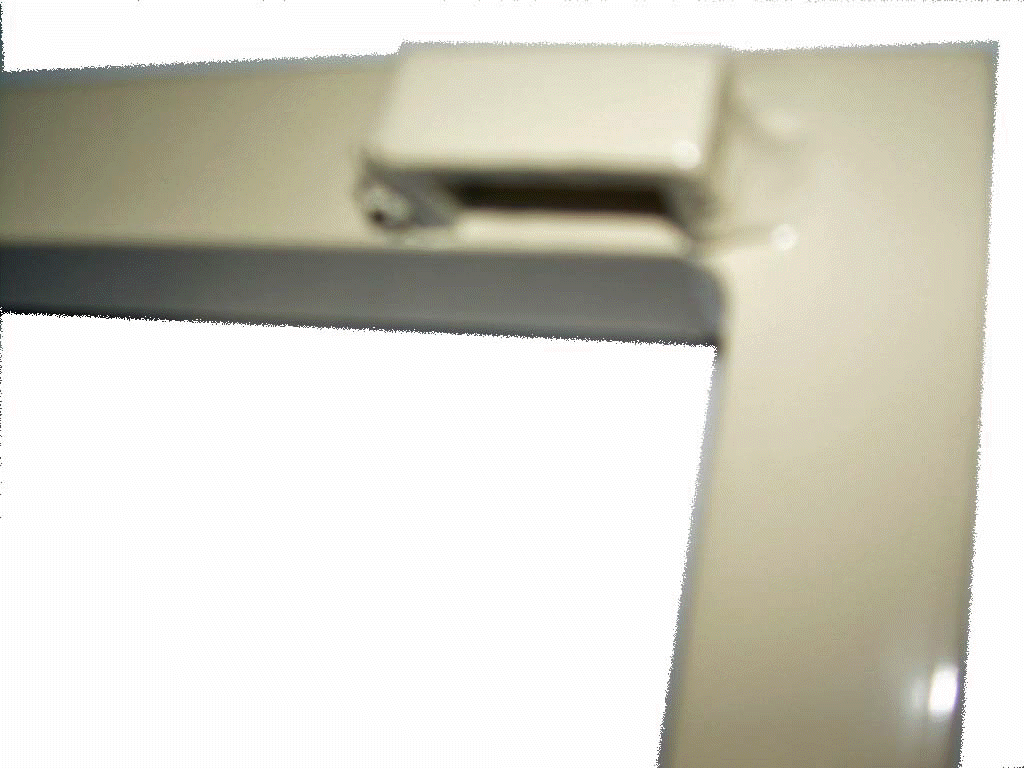 2. The short end of the bracket slides into the above receptacle and keeps the trellis horizontally and vertically stable once the opposite end is screwed into the wall.
3. This design allows for not only extremely easy installation (less than 5 min if you read the instructions) and the option to be locked onto the wall by putting one bracket up and one bracket down.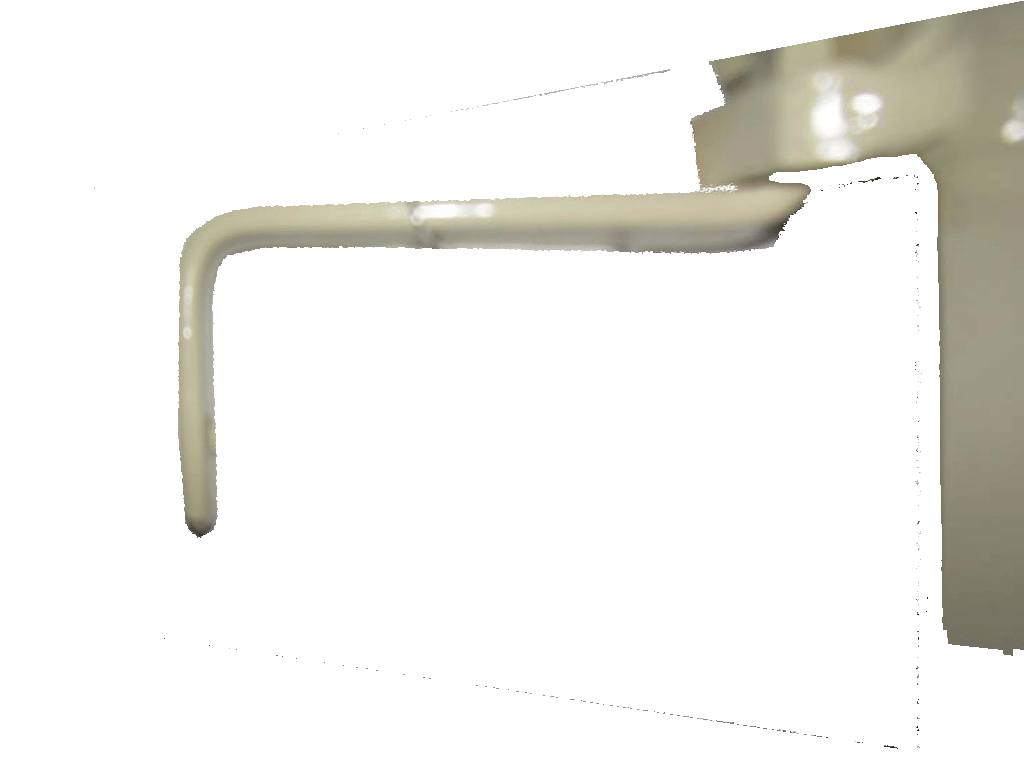 4. Finished product.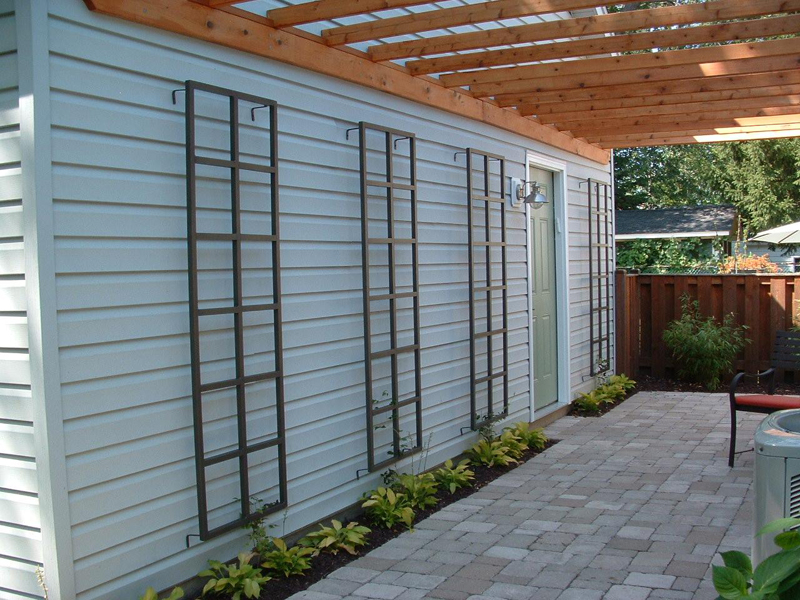 2x6 Aluminum Grid Trellis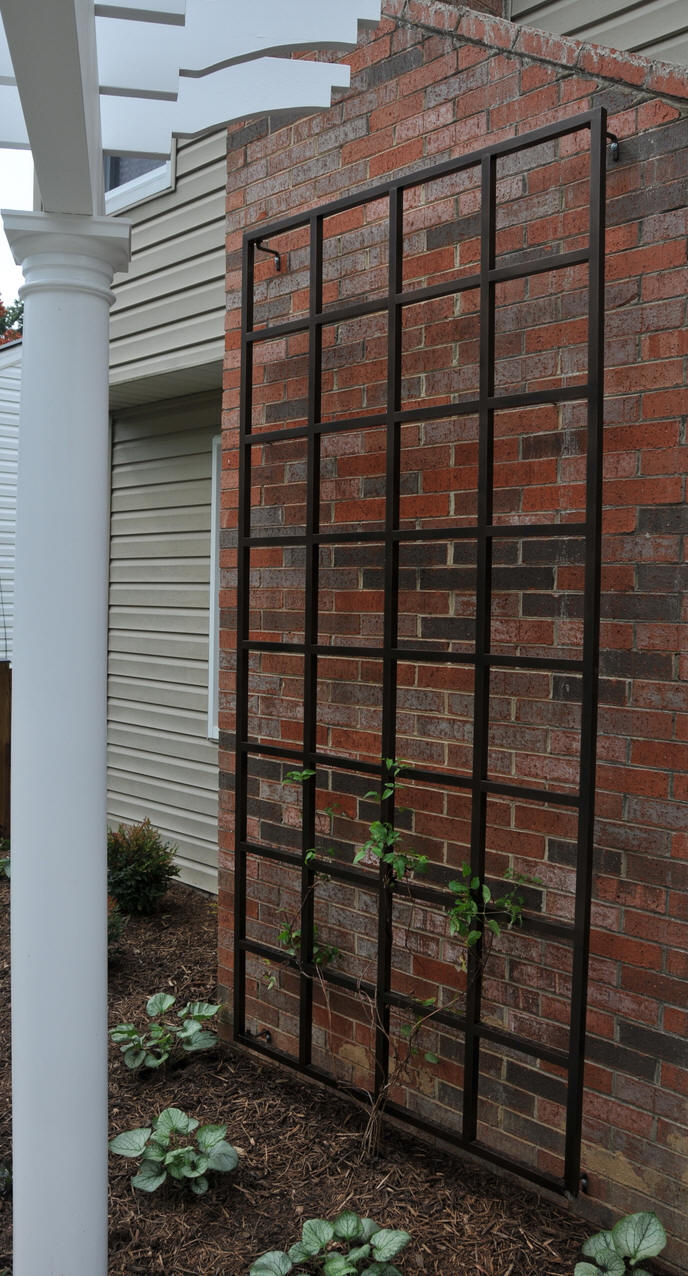 Mona and Dave's 4x8 Trellis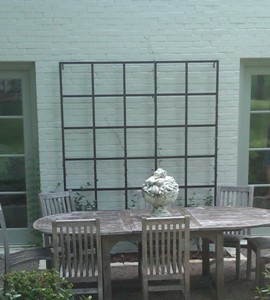 Fowlkes, Norman & Associates Landscape
Fort Worth, Texas
Ange Harvey, designer
Ange Harvey from Fowlkes Norman & Associates in Benbrook Texas used a special 8' x 6' Grid trellis with special spacing for Clinton Koerth
Brackets for extra Large Jobs
Special order please call for pricing!
For extra large trellis (such as the 12 x 24' trellis we put on the side of a Dillards Store) we use a more industrial bracket which can be mounted anywhere on the trellis with self-tapping screws and to the wall with lag bolts.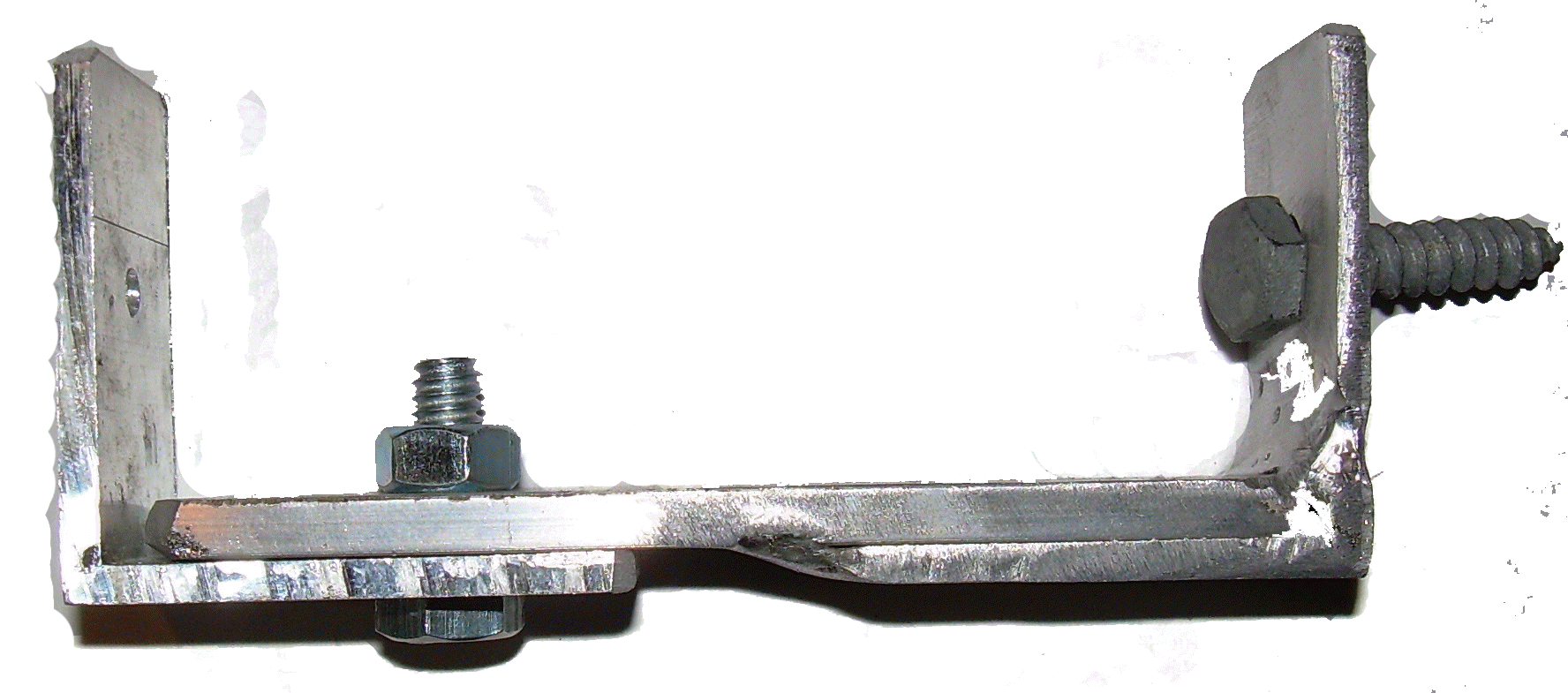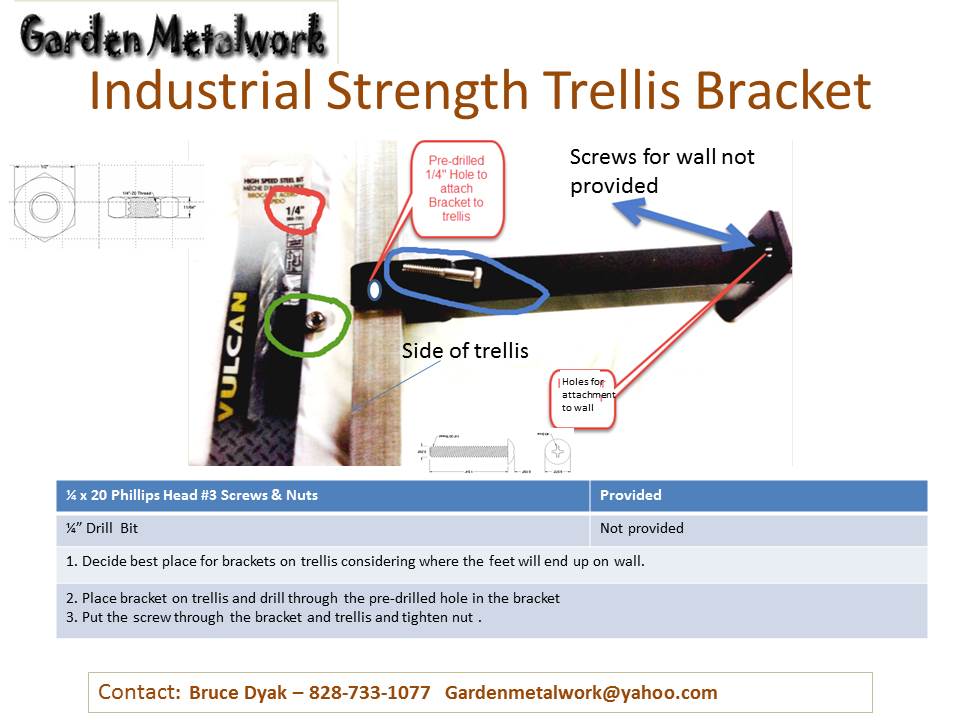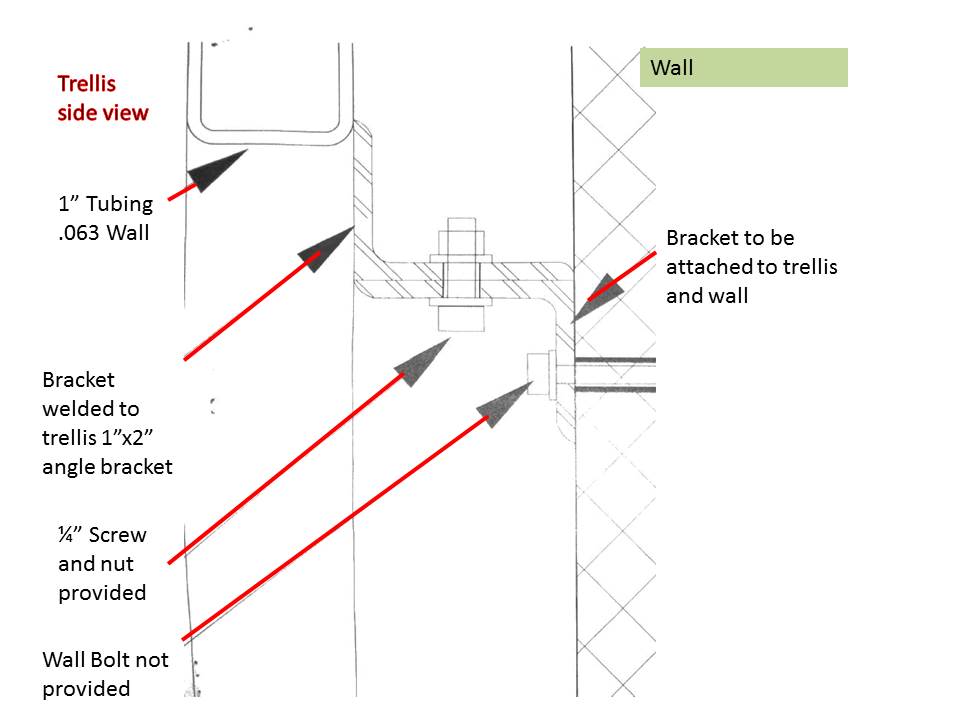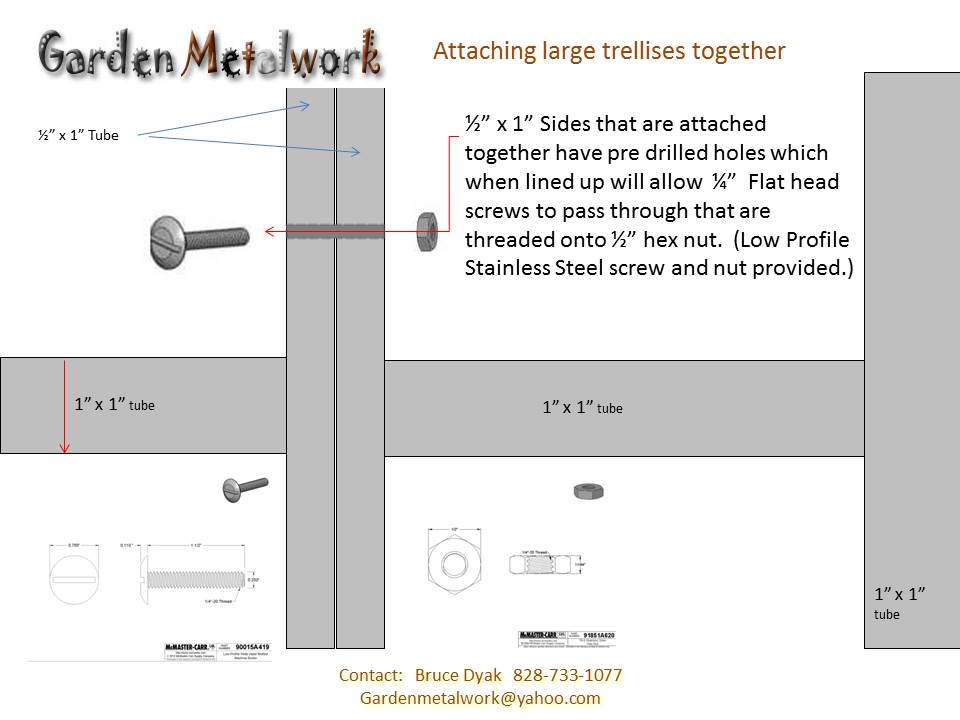 Contact Information:
Telephone

FAX Postal Address P.O. Box

4

1

,

Pineola, NC 28662

Electronic mail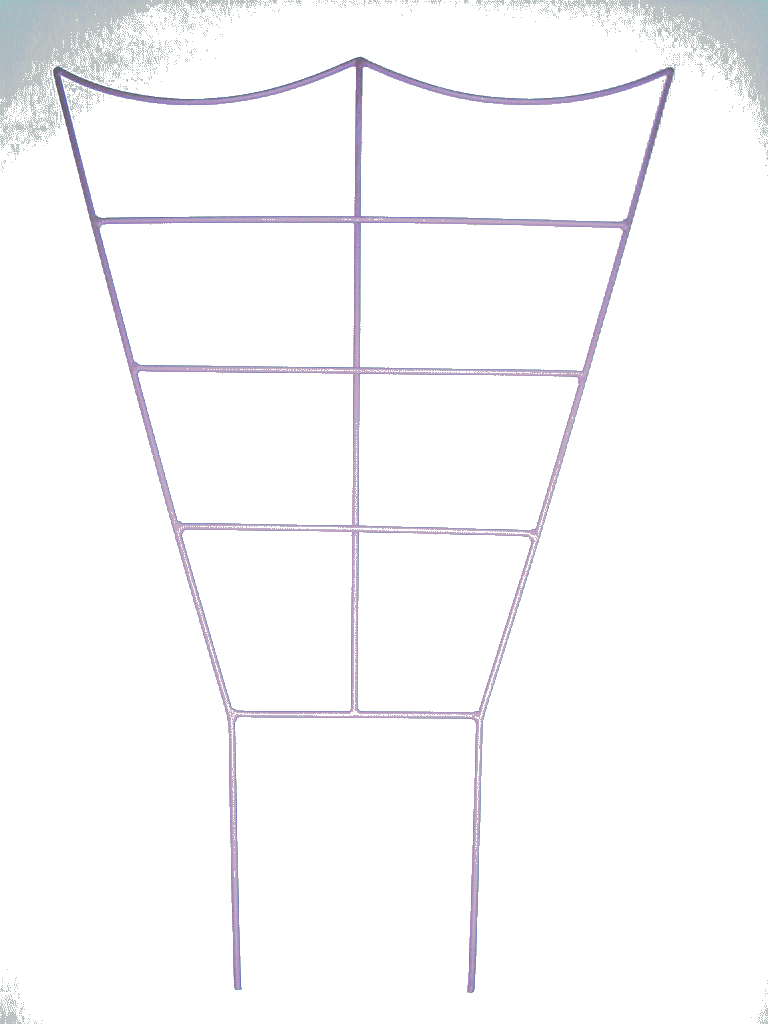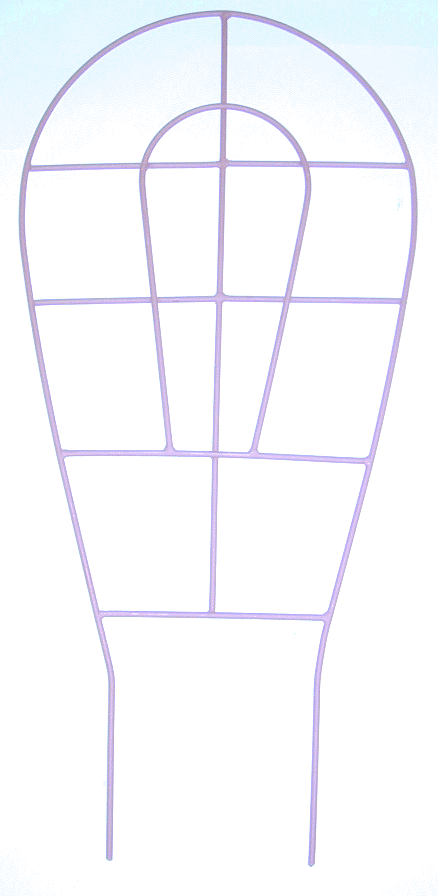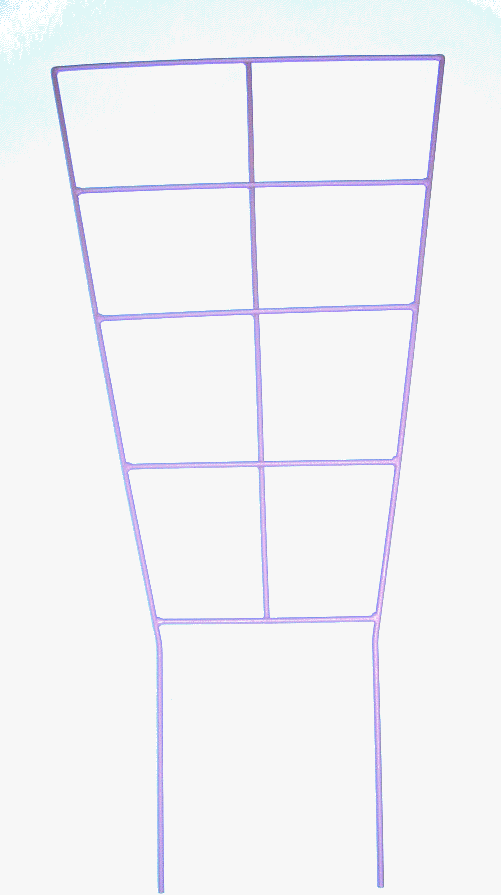 1. As a garden divider:
A trellis can be made to be free standing, anywhere in a garden. This enables you to use one or more trellises to divide a garden into separate and distinct areas, where you may have different themes or styles. Quick-growing climbing plants, such as morning glories, clematis, or honeysuckle will provide a quick way to screen one area from another, while adding an element of interest and beauty.

2. To decorate a blank wall.
A large section of blank wall can easily be turned into an attractive focal point by the addition of a decorative trellis. A trellis can be made of horizontal, vertical or diagonal bars, and can be spaced and arranged to form a graceful and elegant structure. Place a small fountain in front of the trellis, and flank it with a pair of potted, flowering shrubs, and you can create a stunning visual effect. Arranging patio lighting to accent the trellis at night can create an exquisite display.

3. To screen an unsightly area.
There may be areas in your garden which you do not want to see. A compost heap, pool pump, gas bottles, refuse bins, whatever. These can be easily obscured with a trellis, be it free standing or bolted to a wall. A gate can easily be attached to deny access to children or dogs. Plant an attractive flowering creeper to turn an unsightly area into an inexpensive and easy to maintain flowering wall.

4. To raise a wall.
If you want to increase your privacy or help reduce traffic noise, you can use a trellis to raise a wall. A trellis can be bolted directly to a brick wall, or hung on a precast or wooden wall. You do not need council permission to hang a trellis on a wall, so it is an easy and inexpensive way to increase height. Train a fast growing flowering creeper up to the trellis and you will soon have a beautifully accented wall, with the added bonus of increased privacy and reduced noise.

5. As a robust support for vines.
A steel trellis is immensely strong, and can safely support the biggest of creepers or vines. You can allow a flowerless creeper to create a dark green backdrop on a trellis, then hang a planter of flowers to add life and color to a corner of your garden or patio. Place a trellis in a prominent position in your garden to show off your favorite flowering vines, and to present your garden in its true colors.


Increased air circulation - Allowing plants to dry out quicker after watering reducing plant diseases
Greater access to sunlight -increasing photosynthesis
Less exposure to soil pathogens, critters and bug, growing healthier stronger plants
Easier harvesting -little bending easier on back and knees
Larger crops by increasing your garden's surface area by 48 square feet!
Contact Information: Telephone

828-733-1077

Postal Address P.O. Box

4

1 Pineola, NC 28662

Electronic mail: Gardenmetalwork@yahoo.com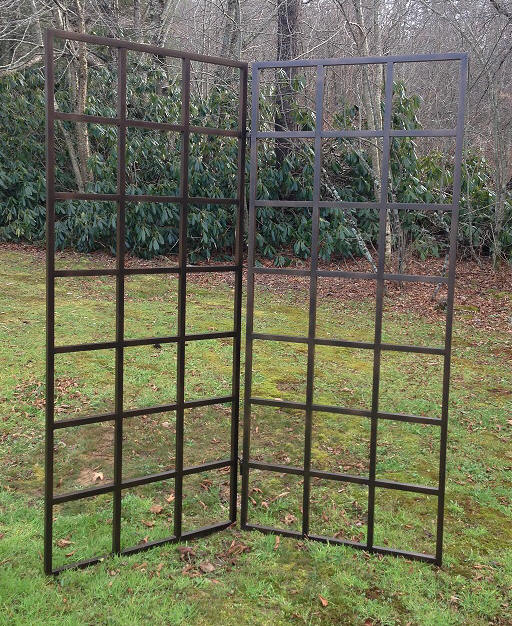 Grid trellis' can be configured to fold or stand on a patio hooked together for support.