As Seen on Home and Garden Networks HGTV's Curb
Appeal Show - Episode #2004
© 2005-2015 Garden Metalwork tel: 828-733-1077 gardenmetalwork@yahoo.com
Comments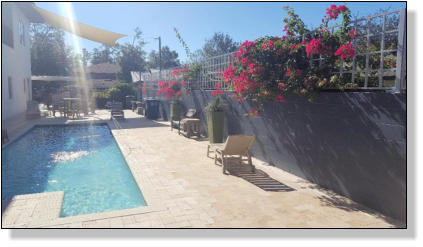 Hi guys, just wanted to share with you
a few pictures of the trellis taken this
morning. I couldn't be happier. Thank
you and happy holidays!
Chris
Winter Park, FL
I just wanted to tell you Bruce that I am very happy with the trellises. Very well done! The
entire experience with you has been a delight.
Thanks again!
Jim
Washington DC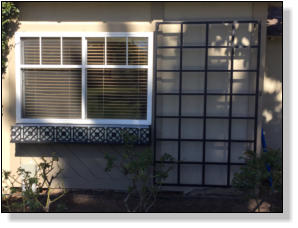 Bruce, We are so pleased with the quality! Next week it
will be planted. Just wanted you to see your beautiful
craftsmanship on the wall!!
Kris
Newport Beach, CA
72" Frank Lloyd Wright Window box and 4 x 7'
Grid trellis
Hi Bruce,
I hope all has been going well for you. It's been almost 1 year since we talked last. For us it
has been a little crazy. The large Trellis you created worked for our client very well. (and he is
very hard to please).
Many thanks, Pat
Pensacola, FL
Bruce,
Your tip worked great. The
trellises were fairly easy to install.
We did not to use the additional
alignment brackets. Looks great.
Have Happy Easter.
Regards,
Neil
Hintington Beach CA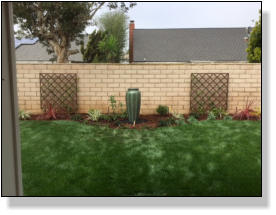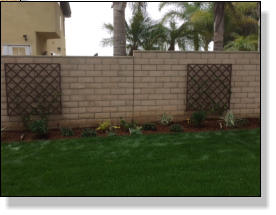 4 x 4 Grid trellises in Diamond pattern
Hi Bruce,
I just got my trellises and they are so beautiful and well built, thank you so much for doing such an awesome job.



I cannot wait
to show it off.
Thanks again
Ash
Falls Church VA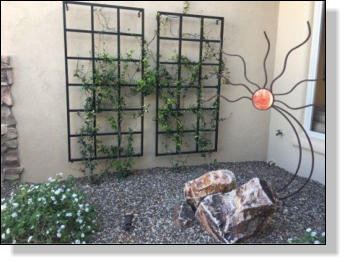 We purchased these trellis' back in 2016 and the
vines have filled in enough to share the photos
with you.
Nice enhancement to our entry in Tucson, AZ.
Betsy
3 x 6 Aluminum Grid Trellis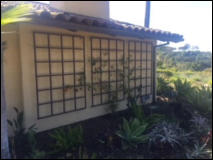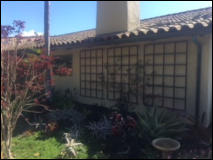 Bruce,
I thought you'd like to see the trellises
your company shipped to me! Easy
installation. Now we wait for the vines to
grow.
Thank you so much! They are perfect.
Laura
Santa Barbara CA
4' Wide x 6' High Aluminum Grid Trellis Powder Coated Slightly Textured Rust
with standard 4" bracketscee
Looking good so far! Now to get the roses trained.
FYI - my faux siding and the layers behind were deceptively thin
and so I had some trouble getting the #14 hex screws to tighten the
way I wanted to. In each application, I was able to hammer at least
2 or 3 of the hexes into something pretty sturdy in the wall (what it
was is a mystery but it firmed up the bracket so I didn't ask
questions!).
Best,
Mark
Denver, CO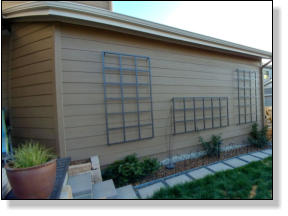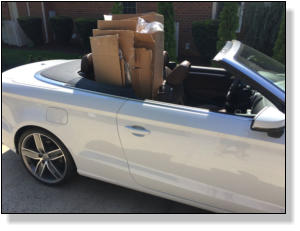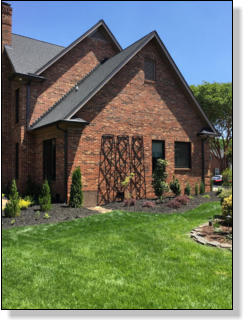 Awesome, thank you so much!
Will def send pics when I get
these installed. Thank you so
much again! I'm taking three
car loads of cardboard to be
recycled ;) Ha!
Trey
Charlotte, NC
Yes it looks perfect there-everything I had hoped for!
Kent New York City NY Penthouse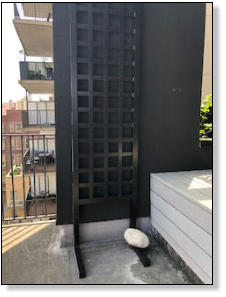 I'll send another shot when it's in bloom. I can't thank you enough for bringing this idea to life. It changed the entire
landscape of our yard. We couldn't be happier! Marsha, Milford, CT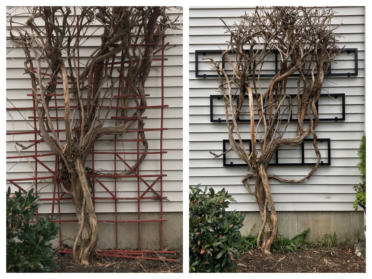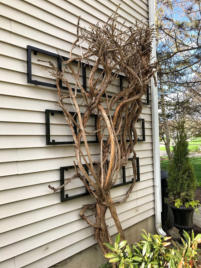 Hi Bruce
The fellows opened the trellis's and they are impressive;
they are perfect.
That said... I'm more impressed with the brackets; they're
beautiful.. :—)
They're different than what's on the website
Well done Bruce...
By the way, what's the drill bit size for the screws into
trellis
Thanks Rags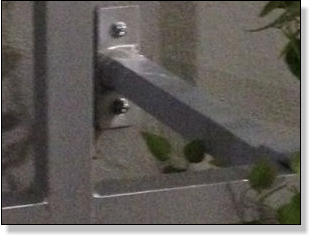 Hello, the trellis' were received fine.
They look great on my home and are a
nice architectural option in lieu of tall
plants.
I thought I would pass along a few
photos.
Regards,
--Chuck, San Diego, CA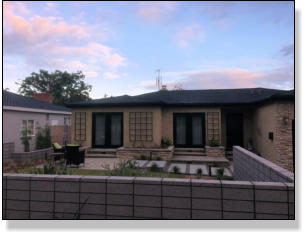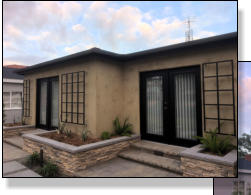 Bruce-
No it did not take us almost a year to
put these out, but it did take that long to
finally install them on the wall.
Thanks again - we love them and they
look awesome!
Michael
Southlake TX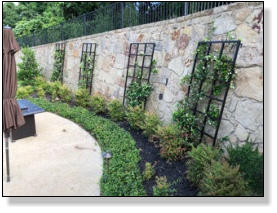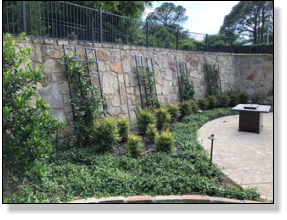 Hi Bruce. I wanted to take the time today to
thank you for helping me out with the final
touches of our project. Here are the pictures
you requested. I re entry had the trellises
installed and was waiting on the rose to take
before I sent you some pics. I will send you
some others when things are in bloom.
Have a great day and MAGA !
Peter
Bayport NY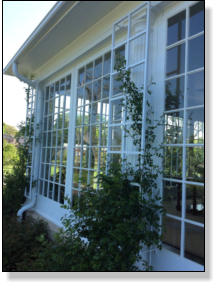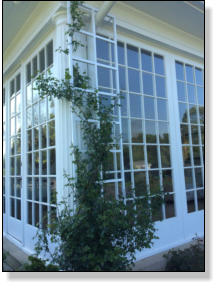 Here's the finished product. Will take a while for the
camellias to fill in. You did a great job of packaging the
trellises. Hardest part of the installation was getting
them out of the box!!
Jim
Hilton Head Island South Carolina
Hi Jim
Looks terrific, we get the same complaint from everyone, the good
news is that they made it in one piece.
Going to send your pic to our webmaster to put on the site.
You are fast!! You have been a pleasure to work with...think it looks
better than having an arch in the middle.
Very Best Regards
Bruce
Was thinking the same things. Great to work with and yes, I do think
the angles are better. Have to give you credit. I'm also going to give
you a plug on our neighborhood website. Probably 1000 folks look at
it. Cheers. Jim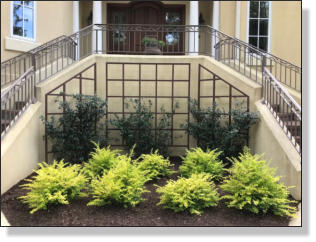 Hi Bruce,
Here is a picture of my beautiful trellises you
made, I have Clematis growing slowly up the
trellises and Hydrangeas in the planters. I had
so many compliments on the design, quality and
fantastic job that you did.
I would highly recommend your company thank
again.
Ashenie
Falls Church VA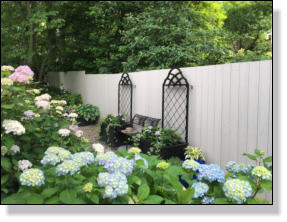 Bruce,
The four metal trellis frames arrived safely
and are installed in our garden. Some
images…. Thank you! - Jennifer Tobits
4 x 8 statuary bronze powder coated trellises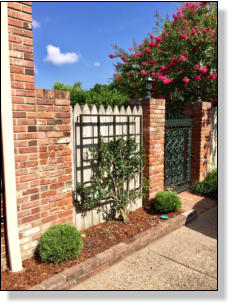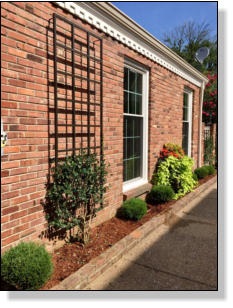 Hello Bruce,
The trellises arrived and look great. Please
see pictures. One thing to note: I'm glad you
double boxed; the outer box was crushed on
one side but all was good on the second box.
3x8 and 4x4 Aluminum Grid Trellis powder
coated Statuary Bronze
Steve
Nashville TN
Hi Bruce,
The reflectors that I bought from you look very nice.
Thanks!
Gail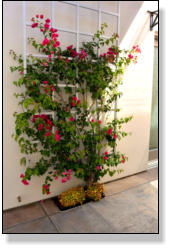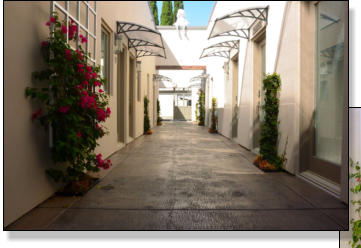 Hi Bruce
What the trellis looks look now
Rags
Napa CA
R Inn Luxury Hotel
in downtown Napa
CA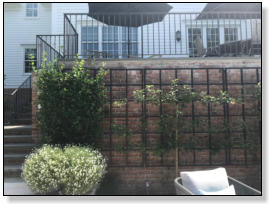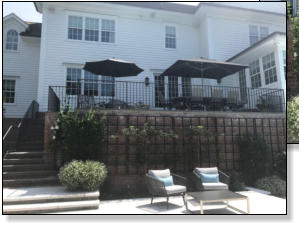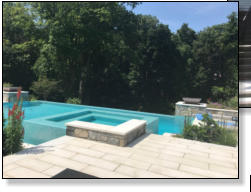 Installed 5 x 6 Aluminum Grid
Style trellises powder coated
slightly textured Black for a
house in Greenwich CT.
Louis Fusco Landscape
Architects did the design and
installation.
Hi Bruce,
Nice speaking with you. Asa promised, please see attached some early photos of your metalwork installed at out project.
Have a nice weekend and we look forward to receiving the additional pieces.
Best regards
Louis
Bruce!
The trellis exceeded my
expectations. Thank you. The
installation instructions were very
helpful and the whole process was
fantastic.
Here are some pictures. It will look
even better next year when the
plants have filled in!
Kind regards
Colby
Portland OR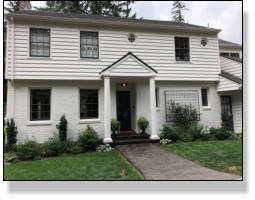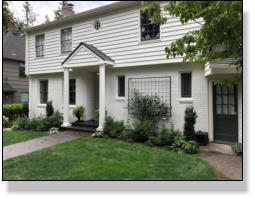 5' Tall x 6' wide Aluminum Patty Prouse Style Grid Trellis with Approximately 6"
spacing and a 1" Angle frame with 1/4" round Aluminum rods going vertically and
horizontally, powder coated Satin Black (slightly Textured Black) with standard 4"
wall brackets.
Just unboxed the English style window box and love it! Seriously - it looks even better in person -
thanks!
Joel - Homewood AL
Your trellises transformed our cramped patio area to a place of beauty! Karen Balter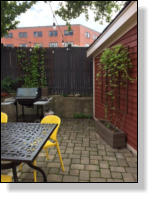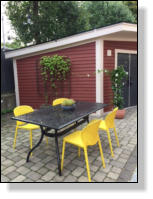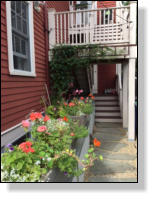 Hi Bruce,
Got them installed and they look great. My friend
Bill Lincoln did most of
the work and the job went smoothly - only took 2
hours. What do you think?.
Will send more pictures when the Star Jasmine is
taken off of the wooden
trellises that came with the plant and the vine is
threaded through the new
trellises.
Thanks for furnishing us with a first class looking
trellis. Bill suggested
we get rid of the plants and simply let the trellises
be the accent pieces
which look fine by themselves.
We did lock them in too - great suggestion.
Take care.
Ron
Glendora, CA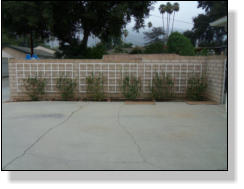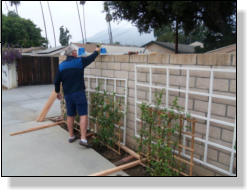 4' x 8' powder coated light tan
That's what I assumed but I wanted to make sure. I have had these markers for 15 (+/-) years and love them, but need to
replace a couple since someone backed over one and totally destroyed it. I'll be placing an order soon.
Thanks - Deb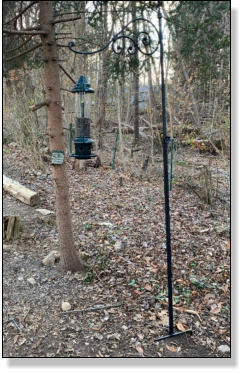 It's up. Wow what a wrapping/packaging job you
did, but it arrived unscathed.
Mark Guliford CT
This UberEats driver gets lost, drives up to my house to see if by some remote chance the
house and street she's trying to find is mine, sees that it isn't, tries to back out but drives off
the driveway and impales her bumper on one of the reflector stakes, and then tries to drive
away but can't…
She's super irate and said she's not going to pay to replace it because my driveway (which
is ~15-20' wide) is too narrow.
Maybe this is a product photo you can feature on your website – "Driveway Intruder Stop
Stakes"??!? Ha, Ha! Not really that funny…
Happy holidays!
Lisa
Bethesda MD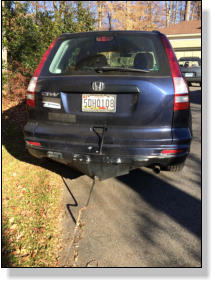 Hi Bruce,
Thank you for the fast response!
Your Leaf driveway markers are really nice, strong too.
My ground is frozen solid so I used a hammer drill with an old
masonry bit that I had and it worked fantastic.
I reluctantly moved two of them out by the street at my wife's
request, replacing the old poles in the picture. They are the
ones that I want to protect more with the red reflectors.
I am so glad that I found your site.
Sincerely,
Jim Kinsman
Custom Log holder for Mike in Atlanta GA and Large wall trellis for his Pool area.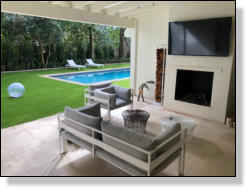 Bruce,
Although it's a cold rainy day in Charlotte, we've installed
the4' x 6' Black Grid Trellis and done the planter. Here is a
photo.
I'm very pleased and can't wait to see it in the spring time.
Thanks,
Cindy
Banana Leaf Style
Window boxes
Michelle from Florida
Bruce
Here is the picture I said I would send to you for our trellis. We
are so thrilled with it and look forward to it filling up with
oranges. Excited to get the next one.
Thanks so much.
Bruce
Rancho Mirage, CA
Thanks for your help.
Calvary Chapel Vero Beach FL
Mike Ochsner
We just received our (3) 5x5 trellises. They look great
The mounting brackets look quite robust. Do you have a recommendation of what screws to use to mount the brackets to a
wood fence?
Oh, and if one of your packagers is missing a box cutter, it wound up in our packaging. Your packaging is quite impressive!
Thanks, John, Columbus, OH
Bruce, here are a couple of photos of your great
work....Sorry, one of the pics is
sideways.....They look great.....I'm going to put
the two I just ordered on the windows on the
second level......Thanks, Liv
42.5" Bellflower Window box powder coated jet black with lowered back mounting bar so window sill fits inside the window box
allowing it to be higher up in the window so when you look out you see more flowers.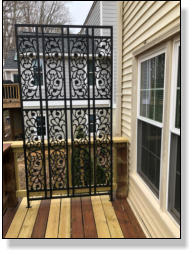 Custom casting trellis designed by Karen and David C -- Washington DC
here is a photo of the trellis installed.
looks great.
thanks again
DWC
Washington DC
Bruce,
Trellis worked out great!
Appreciate your help.
Thanks again!
Sheila
Your trellis is working well. Thought
you might like the picture.
Clark
Hi, Bruce - finally got it up. Looking good!! Thanks!
Also, those shorter driveway markers look great. (and work great).
Best wishes, Mike Nashville, NC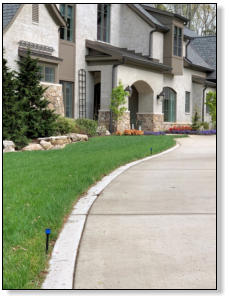 Decorative over the window design, Rounded top trellises and driveway reflectors
Hi Bruce
Got the trellis up today. Think it looks good. Thanks
Dan
Arlington Heights IL
4' Wide x 7' High Aluminum
Grid Trellis Powder Coated
Statuary Bronze with standard 4"
brackets
Below 6' Tudor steel trellis in pot.
Ponte Vedro Fl
Love this trellis!
Julie
Bruce,
Rust 6' Aluminum Fence trellis Looks really great.
I'll see if I can send you some more business.
Thanks.
Mike Moon Township PA
Bruce,
Had a chance to unbox everything this weekend and loved it all. Can I get the remaining window boxes ordered please. That one
works but it was a little tight so if we can add 2 inches to all that would be great. Also, can I get another 3x8 trellis and a 2x8 (both
taller than wide).
Thank you,
Nicole
Columbia TN
Hello Bruce,
On behalf of Devore Associates I would like to commend the exceptional quality of your products from our order back in
August of 2018. That being said, we would like to order more Trellis'.
The sizes are:
•
(1) 3'x8'
•
(2) 7'x2'
•
(1) 1'x7' *Custom size* if possible
Hi, Bruce,
Here are 2 pictures of your beautiful
trellis installed at the historic McGuffey
Museum with historic Queen of the
Prairie roses. Beautiful!!!
Thank you for your craftsmanship and
your assistance in ensuring we
received everything we needed in a
timely manner.
Sue
Oxford, OH
Hi Bruce. Keep meaning to send you a
picture of how the metal trellis you built for
me (back in 2016) turned out and how I am
using it. I continue to get compliments on
the flowers and the design and am very
happy with how it turned out. Thanks for
working with me on it! —
Pattie M (Rochester, NY)