As Seen on Home and Garden Networks HGTV's Curb
Appeal Show - Episode #2004
Comments
Hi I purchase these trellis from you several months ago in the spring. They were installed on my NC house
today! They look great and go with the contemporary design of the house. Rgds Debbie Herdere
4' x 8' Grid trellis with 4" brackets powder coated Slightly textured rust.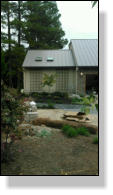 Dear Bruce,
It arrived Monday and was installed yesterday. Looks fantastic!
Heartfelt thanks,
Wendy
hey Bruce,
sorry it's taken some time to get
these pics over to you guys.
the trellis' are perfect.
exactly what was needed - great
product and great price too.
thanks so much, again!
have a great weekend,
tom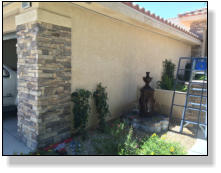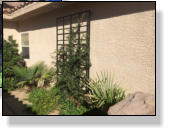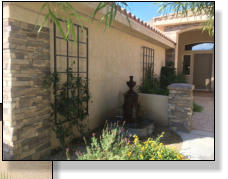 Hi Bruce,
Just had the handyman put them up
this afternoon. They look great.
Couldn't be happier.
Best, Stephen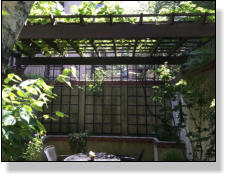 Hi Bruce!! I'm so sorry it's taken me so long to get images to you of our
beautiful planters and trellises!! Everyone loves them, and the plants are
happy too.
Here are a bunch of shots. Sorry there are so many sun angles in them.
Let
me know if you'd like me to take some more at different times of the day.
(I'll have to send more than one
email.)
Thank you so much for such a
wonderful experience. Please feel
free to use
any of these images for your sales
purposes. I hope all is going well for
you and yours.
Take care.
Pati Gallagher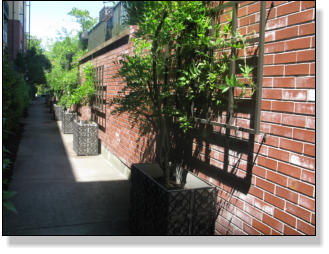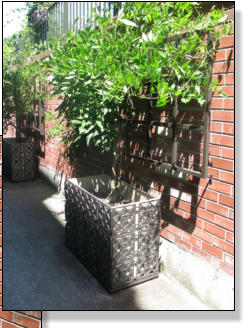 Hi Bruce,
I wanted to share with you pictures of the trellis' after they
were installed. They are a great addition and we are very
pleased!
Thank you,
Karen P. Holt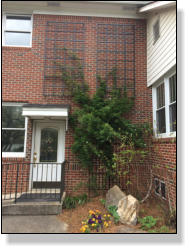 Hi, Bruce:
Sorry for the delay in sending you the photo of my twins
next to the very unique and beautiful leaf driveway
reflector you fabricated for our home. When it comes to
home decor, I'm very picky about every little detail, so an
ordinary reflector just wouldn't do! The quality of this item
is much nicer than anticipated, and your service is A+!
Thanks so much,
Karen Palmer
Concord, MA
Leaf style driveway reflector
Your beautiful work.
I will send more pics.
Best,
Tricia
Just wanted to send u
these pics now that the
vines are starting to
grow . Everything looks
beautiful thank you so
much for the beautiful
work u have done on
our trellises . Karen &
Gabe Corchiani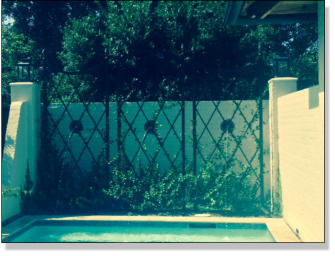 Custom trellises with hole for water to
shoot through in New Orleans
Here are some more
pics after the sun
is off of it. I
don't know which
will work best for
you. Good luck with
the future.KAW
57.5" Wide x 68.5" High Aluminum Flat
Slat grid trellis with 2" frame,
powder coated Slightly Textured Rust.
4" standard brackets. 4" spacing
with 1.5 slats.
Dear Bruce
I have finished installing the trellis and am very happy with
the results take a look at the PHOTOS. I would expect you
will get more orders from this area due to this installation, in
fact, I am considering ordering a larger rectangular one
maybe 4 feet by 4 feet for the back and if some of my other
friends who see this and like it want to order together maybe
we can save money on the shipping cost thanks a lot and let
me know if you need anything else from me.
Regards,
Ken Brooks
2 x 8 grid trellis powder coated slightly textured black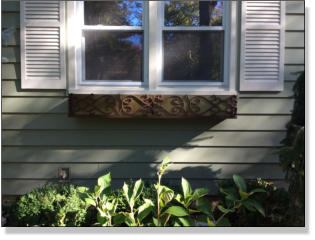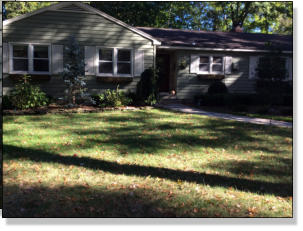 Laurie Preffer from
Ramsey NY 65"
Slightly textured rust
window boxes with
antique bronze liners.
Received them today
and they are already
up.
Dear Bruce:
Attached are pictures of the lovely installed window boxes you
made. You patiently went back and forth with me, but we got it
right!!
I love them so much that I would like to order another for an
identical window in the front. It would be exactly as the ones
received: 60 inch quatrefoil design in shiny black with the extra
mounting bar (your great idea!).
Thank you very much!
Sincerely,
Dianne Cox
60" Cathedral trellis in Black
Hi Bruce,
Here's a picture of our trellis with a purple clematis waiting to grow. I really
like the design of the trellis and the workmanship was great. I was at first
going to leave it free standing but then I decided to secure it at the top so it
wouldn't rock back and forth.
If I could make two constructive comments, I would have preferred if the
brackets were also aluminum instead of steel and enclosing two stainless steel
screws to attach the bracket to the house would have been nice.
One other thing I wanted to add: the packaging was substantial, the trellis
arrived with absolutely no damage.
Thanks again,
Neil
3 X 6 Grid Trellis in Textured Black with 20" legs
Hey Bruce,
The trellises look great!! Sorry for the sad picture we had to transplant a vine to the trellis
and still in a bit of shock! I'll get better ones once we are finished planting out.
Thanks again for expediting our order. We and the client are very pleased with your work.
Look forward to working with you on future projects.
Will send better pics next week.
Enjoy the rest of your weekend.
All the best,
Amanda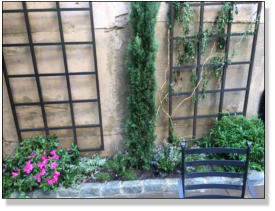 3 X 8 Grid Trellis Powder Coated Statuary Bronze
Hi Bruce, the fire screen
looks great. I did find some
cedar at new river. Enjoy
your weekend. Thanks
Hi, Bruce!
I hope you're doing well. We just finished our landscaping project using the 7 trellises you built for us, so I'm sending a few pictures
that I thought you might be able to use on your website. We are so pleased with how everything turned out in our yard, and we
absolutely LOVE the trellises (quality, color, ease of installation, ordering & shipping experience, etc.). We've gotten tons of
complements on them as well - people just love how they look in our landscape, and have never seen anything like them in a
residential environment. We'd be more than happy to share a testimonial for your website, if this would be useful to you - so please
let me know if there's a way for me to do this, and I will!
Thanks again so much for your great work and enjoy the rest of the week.
Take care,
Liz Strand Cimini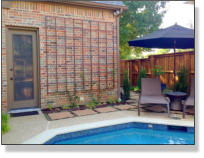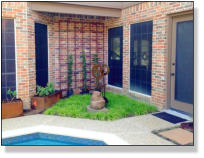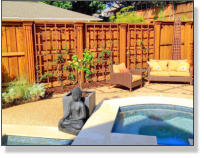 Great product Bruce! Below are some
pics. Thank you sir
chris.sides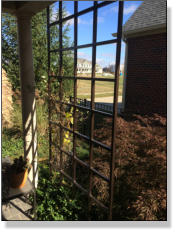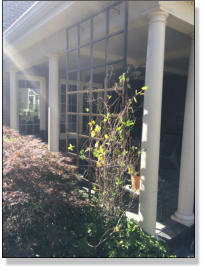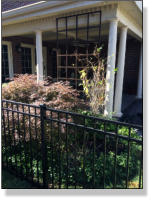 They look great.
I was wondering if we placed
an order for some white
powder coated ones say 6 of
them by this weekend. What
would the lead-time be. The
client is having a party on the
18th of nov and wanted to
have their garden all set up.
Thanks,
Amanda
3 x8 trellises in
Statuary Bronze.
Thank you, I had good help. Thanks for making
such a quality product. Bruce Bryan, Facilities
Department - WinShape Retreat
Winshape conference center outside Atlanta GA purchased 45 of our
10 ft adjustable shepherd hooks to line the road with LED lights.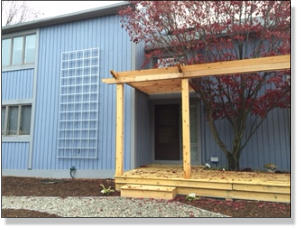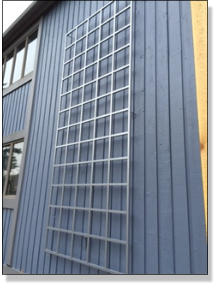 12' high x 5' wide grid trellis
powder coated Anodized Silver
shipped to Naznin in Ann Arbor Mi
48105.
Mission accomplished and it looks
great!
Thanks Again!
Naznin
Hi Bruce,
The trellises arrived today and look great.
See attached.
Thank you!
Rick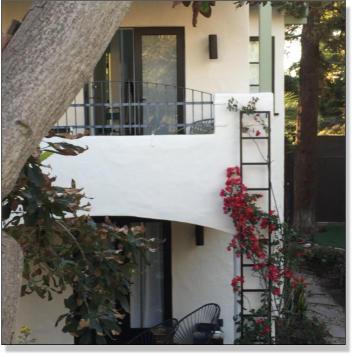 Laguna Beach CA 14" wide x 10' High Statuary
Bronze Grid Trellis.
Bruce, I don't know that I shared the pictures from my daughter's backyard birthday celebration. I can't thank you
enough for speeding up the process and for personal delivery of my dynamite trellises. I owe you a template for the
section by the fireplace. And I fully intend to take you up on your offer to teach me to weld...!
My grandson Baby John arrived on Sept 10th, and life has revolved around the expected adjustments. All in all, we're
a REALLY blessed family, and grateful for every single blessing. I hope all is also well with you family as well.
Merry Christmas and I look forward to seeing you in the new year.
Best,
Marilyn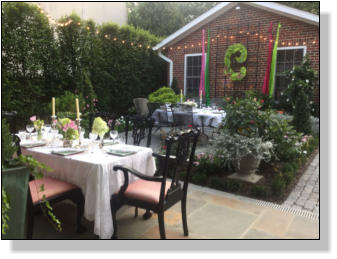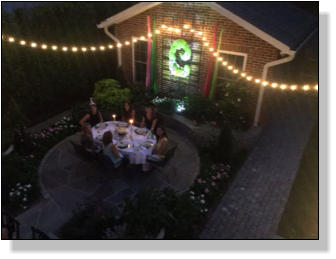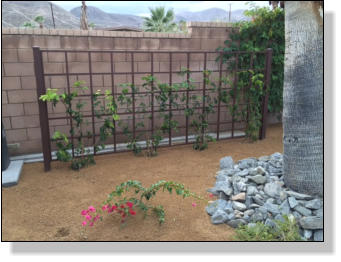 Hi Bruce. We finally completed our trellis project. It should
have gone up higher but the concrete had set! We are very
happy with the architectural interest the trellis adds.
Nancy
Photo of a 5 x 12'
aluminum grid trellis
with 3" square posts
powder coated Slightly
Textured Rust.
Good Morning Bruce,
My yard reflectors arrived yesterday and I am very happy with them. They look even
better than
I thought they would.
Thank you again for you service! Hope you are not getting too much snow.
Julie Rogers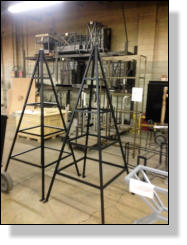 Bruce – Those look awesome! AWESOME! The thing is that I only wanted one. (I realize now that the
picture I sent you had two in it and you took that to mean I wanted two obelisks.) I worry about
affording two, but tell me the price and I'll see what I can do. You do amazing work. Best, Jen
Figured the price at 175.00 each, you can decide of you want both when you see them. I can always
use it as a Christmas present for someone.
Best Bruce
Good price – I may take both if we can fit them in our car. How about we plan on being at the
shop/store around 3 pm tomorrow?
Hi Jen:
It was a pleasure meeting you both, looks like the journey ended well. You should have received your
spikes to hold the Obelisks in place any day.
Best Regards and enjoy! Bruce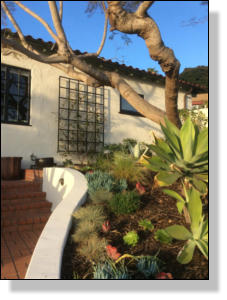 Hi Bruce,
Thanks again. Installed the new
trellis today. Pic attached
Rick
Laguna Beach, CA
5' wide x 7' high Aluminum grid
trellis powder coated statuary
bronze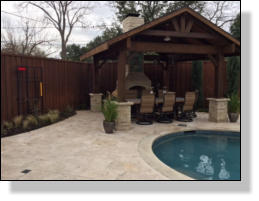 Bruce,
Attached are a few pics after installation.
Installation was quick and easy. Good
design. We could not be more happy with
them. Great products.
Thank you, James
Dallas, TX
4 x 4 grid trellis pictures and 53 tall x 48
wide modern cubism trellis
© 2005-2015 Garden Metalwork tel: 828-733-1077 gardenmetalwork@yahoo.com