As Seen on Home and Garden Networks HGTV's Curb
Appeal Show - Episode #2004

Bruce
I received your planter liners and everything was perfect! Thank you!
Michelle Andrews MD
Hi Bruce,
Just wanted to thank you so much for the Trellises! They look awesome! I have
attached a couple pictures even though the area isn't fully finished! Love it!
Wanted to make you aware, if you aren't already, we had a small issue with the trucking
company. They trellises were supposed to be delivered on Thursday, but the company
said that, "Someone messed up and forgot to put them on the truck." So I called on
Friday morning, and it happened again and all the trucks were already out for delivery.
They would have to be delivered on Monday.
I told them they had to figure out a way to get them to us by the end of the day Friday
b/c I had an installer coming on Saturday morning & we wanted them up for the
weekend. Long story short & a few phone calls, they were able to deliver them around
5:30 on Friday night. All worked out, but just wanted you to be aware. 
Anyway. Thank you so much! You do great work and we greatly appreciate you!
Most sincerely,
Sonja Kiley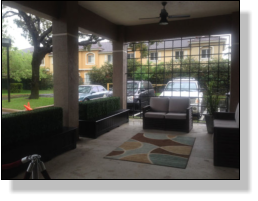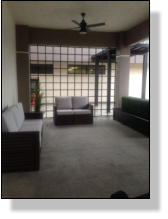 Was driving by today and realized I never sent you a picture of
this. Chimney shaped 10'6" tall 4'6" wide Powder coated slightly
textured black 1.5" framing with 1" diamonds approximately 18" on
center. Powder coated bronze with 4" industrial style brackets.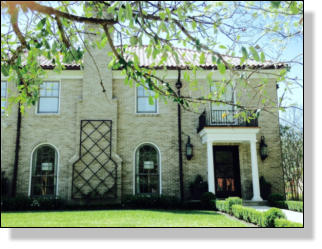 © 2005-2015 Garden Metalwork tel: 828-733-1077 gardenmetalwork@yahoo.com
Hi Bruce,
The trellises look great! Thank you for fabricating
and getting out to Palm Springs, Ca in a timely
manner. Please see photos below. I will be
contacting you about coordinating for upcoming
future jobs. Thanks also for sending the refund
check. We received it.
5' high x 4' wide aluminum grid trellises for Palm Springs CA. Dome by Windscape Landscaping.
Hi Bruce,
I need 2- 4' x 8' trellises same color as the last ones- think
they were antiqued bronze.
Delivered to the same address- please send an invoice and
will call with a credit card.
Attached a picture of the job I used the last ones on as well.
Thanks for your help, Robert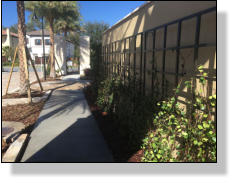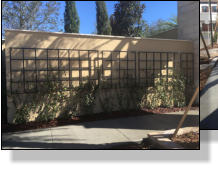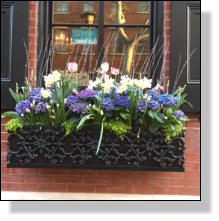 Thank you very much Bruce. My driveway marker ordered several years ago as well as my plant holder look like new- you live up to
your promise of your work being exceptionally durable - not to mention timelessly attractive!
Looking forward to my new piece.
Thank you for getting back to me so quickly.
Carolyn Agoglia
Bruce ~
Here they are.....I do have a before picture, if that is of
interest. LMK
Love them!
Debbi & Mark
Los Gatos, CA
3' x 5' statuary bronze trellis and 1x5 over window.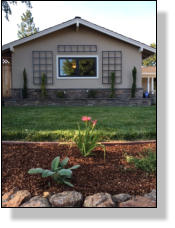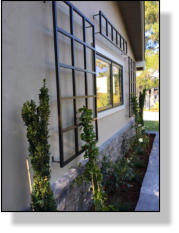 No worries! Always happy to save money. Btw I'm pretty
sure I already have 3 trellises from you guys that my
landscaper installed. They are fantastic. I'll share photos
when I get these new ones in as well.
Especially love the mounting brackets and being able to
easily remove the trellis for wall maintenance!
Ladd Bosworth
Denver, CO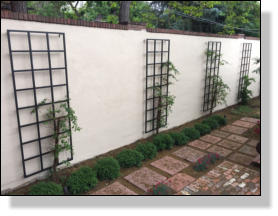 Bruce,
I cannot begin to thank you enough
for the beautiful workmanship and
how you went out of your way to help
me with my trellis! They are beautiful
and I receive so many compliments
on them. As you will see, I have
quite an orchid collection and they
are loving their new home…Thanks
again, Dale
Custom Orchid Holder Palm Beach FL
Just hung my trellises (trelli?) today. The variable
location brackets worked great for my application. The
quality is great! I will be ordering more soon. Enjoy the
pics!
Bob
4x8 trellises
and bracket
information
Bruce,
The rained finally stopped this afternoon
and I got a chance to hang the trellises.
They look great and were easy to install.
Thanks!
Joe
New orleans, LA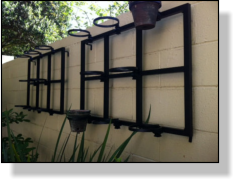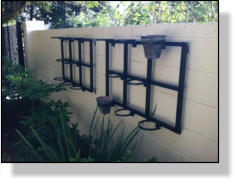 Hi, Bruce,
Received the window box yesterday and put it up today.
It is GORGEOUS!!! It is more substantial than expected and I would like to order a liner after all. I will play with the samples
and let you know next week on the color. My neighbor loves it and asked where I purchased it. I told her about the samples
and we both thought of the silver but I need time to decide. I will contact you next week about ordering etc.
Have a get Holiday weekend!
Thanks, Donna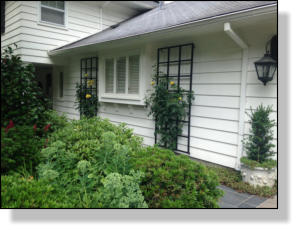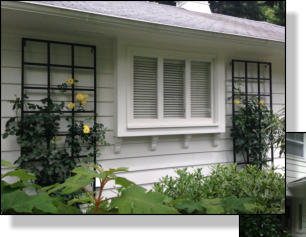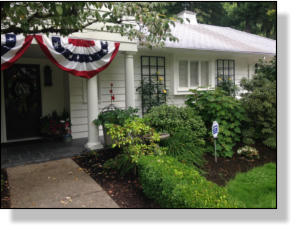 So happy with my trellises!
Thanks again! Cheryl
Lake Oswego OR
3' Wide x 7' Tall Aluminum Grid
Trellises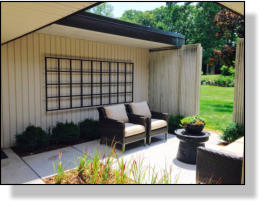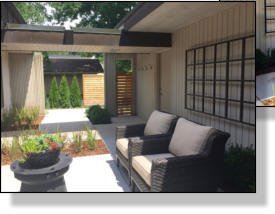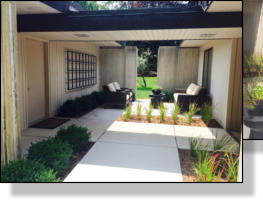 Hi Bruce,
We love the trellis! Thanks so much for the rush order, just in time for the
landscaper's to complete the job. We have climbing vines planted behind
the boxwoods, hopefully by the end of summer they will be climbing on the
trellis. The trellis was the perfect touch to bring our 70's concrete house into
the present! No more ugly atrium!!
Paula O'Brien
Rockford, MI
4' x 9' Aluminum Grid Trellis
for their 70's style home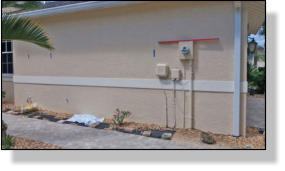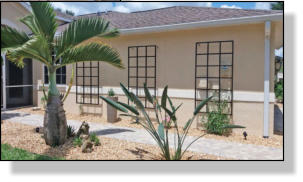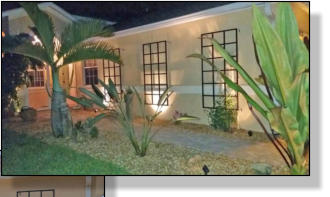 Hi Bruce,
Finally, we finished with our project and we are totally
happy with how it turned out! Some day the outer panels
will be partial covered - the one in the middle will always
stand out as beautiful as it is. Thanks again for these
state of the art trellises - it has been a pleasure to working
with you.
Best regards
Bianka
Estero, FL
PS: Thank you for the second set of brackets!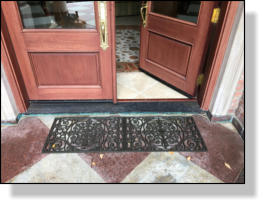 Hey Bruce, Your entrance mat
proudly "front and enter"! Peggy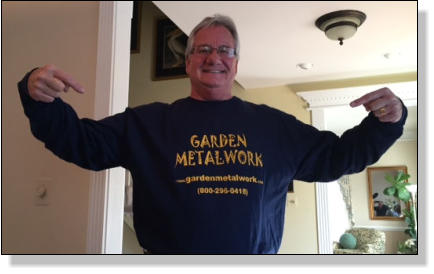 Lost 25 lbs now my favorite shirt, this
AM a person stopped me to write down
the website... cool! I'm your best ad ....
beats being on a corner in a statue of
liberty costume


Happy New Year Bruce!
I purchased a trellis from you, for a client 2-3 years ago, and it still looks great!! I need you to quote a
custom size for another job we're currently working on.
3' wide
8' high
with 6" or 8" wall mounts. It will be attached to the stucco wall of a home.
dark brown finish. Either Statuary Bronze of Rust Fine Texture.
The house has copper downspouts which have a lovely dark brown patina.
I need the finish as smooth as possible.
I know the standard 8" grid will not work, due to the size, since this trellis will have a climbing rose
growing on it, I think we should go to 12" grid allowing for lots of air movement. Is that possible?
Thanks for your time. I look forward to working with you again.
CJ
C.J. Crockett
Owner
House to Home
P.O. Box 3602
Long Beach, CA 90803
562-619-0825
cj@h2hlandscape.com
Bruce:
Your 3 trellis's (inv 22505) arrived too late to use last season (my fault for ordering too
late), and I simply stored them all wrapped up just as they came.
While is it not yet planting time here in New York, I do need to start assembling the
trellises to the planters…so today I unwrapped them and brought the trellises up stairs.
They are simply beautifully made! I want to thank for the excellent craftsmanship, in
addition to your fine customer service. If you ever need a recommendation, please don't
hesitate to use my name or contact info.
Jeremy Lang
New York City
Hi Bruce!
We love our trellises - so much that we would like to order 2 more!
Same style, size and color - same shipping address!
Please send me the link and I will send payment!
Thanks!
Susan Atascadero CA
Good morning Bruce,
I have not sent you an updated pic because we have not planted the trellis yet. We were waiting for the last frost to
past and good thing since we had one this morning!
We are so pleased with our trellis and would like to see if you also do fireplace screens. This would be for our
courtyard fireplace so it would be exposed to the elements. The opening is 48" wide by 35" tall.
Please advise and we will send a design.
Many thanks,
Nancy Fort Worth TX
Hi Bruce,
Hope you're doing well. It's been a while but we were so pleased with
your work we are looking to order more window boxes. Hopefully my
order from before is still in your system with the measurements
because I need 2 more of the smaller sized window boxes. It was the
Bellflower black matte w the copper verde patina liner.
Look forward to hearing from you!
Tiffany Correa Castro from Idaho
PS Don't they look good? :)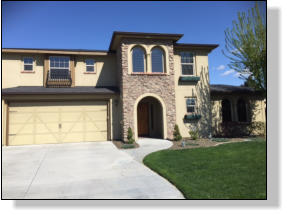 We are very happy with our window
box.
Thank you!
Marissa
Hey Bruce,
Just a quick note to tell you how much I LOVE my new
window boxes! Thank you, thank you!!
Sincerely,
Leah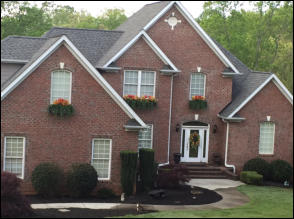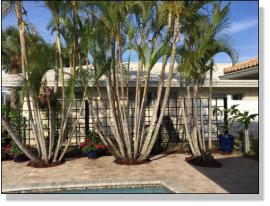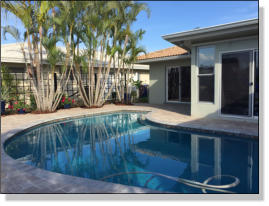 5' high x 93" wide Aluminum Grid Trellises powder coated Dark Anodized Bronze with 3" square posts in St. Pete FL
Looks awesome! Thanks
Bruce. You're truly an artist.
More pix to come but here are
a quick few.
(Yes, we have to have chain
link... we hate it but no choice)
Chris
Hello Bruce -
Look at what has FINALLY been installed!!! I
can hardly keep track of all the compliments
coming from my neighbors!
Thanks so much for your help and
craftsmanship!
Deb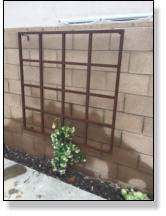 Bruce,
Trellis looks great! Thanks for your excellent customer service!
4 x 4' Aluminum Grid Trellis in Rust
Comments
Thank you Bruce! I love your work.
Susan Finn | Iron Hill Brewery & Restaurant
Consulting Creative Director, Brand Manager
Cell 302 530.8267
Hi Bruce,
The trellis are outstanding.
How quickly could we get one more?
Ideally the size would be 2' by 10'. However, we
might get by with a 2' x 8' if that is stock and would
be faster. White with mounting brackets on both
corners.
We have a plan B if the timing doesn't work.
I will follow up with a phone call this afternoon - I
am out on the road and in the field all morning. I
will send a quick picture from my phone now... still
a work in progress, planting should be finished by
early next week.
Thanks much!
Darrah
Darrah Cole
Senior Horticulturist and Designer, AOLCP, MCH
Rose Kennedy Greenway Conservancy
185 Kneeland Street
Boston, MA 02111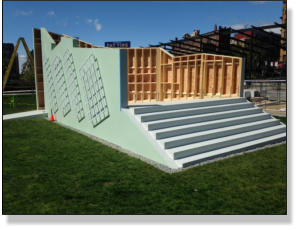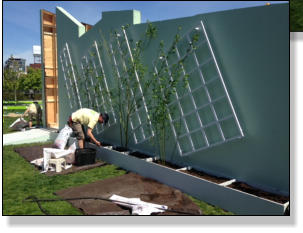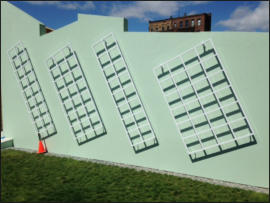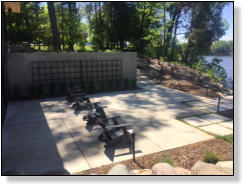 So beautiful!
Donna in Grand Rapids, MI
Hi Bruce,
Attached are images of the installed trellises at
our home. We are pleased with their appearance
and enhancement of our home and landscape.
Best regards,
Ilene Follman
St Louis, MO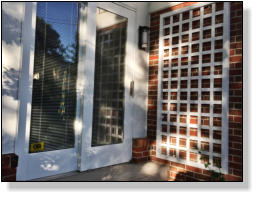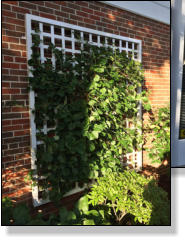 74" high x 35.5" wide aluminum
Flat/slat trellis with 2" frame and
1.5" slats with 4" spacing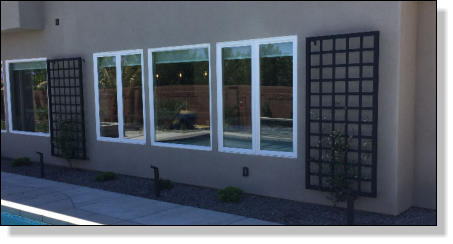 Picture compliments of Chris in St. George UT
who used 85" High x 40" wide Flat/Slat aluminum
trellises in Slightly textured black to support his
roses.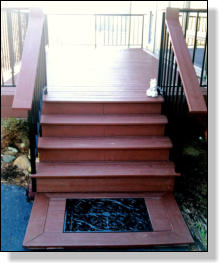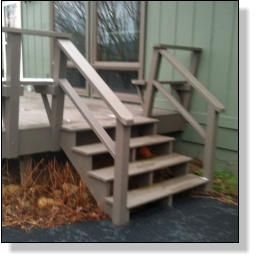 Before and After
Bud Corneal Newland NC
Incorporated our door mat into
his stoop.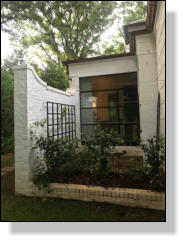 Bruce- the trellis arrived intact, is installed and looks great. I will get a better shit
for you but here it is in place. Thanks for all of your help.
Dave from Mathews NC
4' High x 7' Wide
Aluminum Grid Trellis
Powder Coated Dark
Anodized Bronze with
standard 4" brackets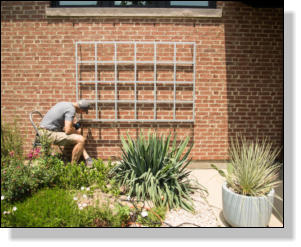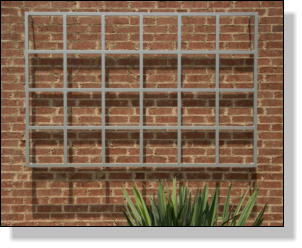 thanks— we love the
trellis!
Susan
Denver CO
4' x 6' Aluminum Grid Trellis powder coated anodized silver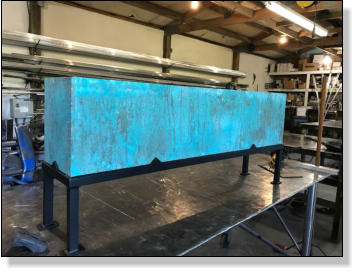 I received the planter at home last week and
think it looks great....Thank you
Christopher Bozarth
Edmond, OK
Hey Bruce…the trellis came yesterday/perfect for our application! Many thanks. If you
have a catalog of your various products, please send it along for future. Thanks again.
Mark - Santa Clara CA
Hi Bruce - Got the trellises today and they look awesome of course! Unfortunately I did short the order - we need three 4 x 4 -
I assume those can come FedEx Ground or UPS?
Please let me know and as soon as I get them and install them I will send photos of all the ways we have used your great
trellises!
Thank-you!
Susan - Atascadero CA
124" Pontalba Style Aluminum Window box
powder coated Satin Black with real copper
liners, sent to Heide owner of The Fig Cooking
School, Milford CT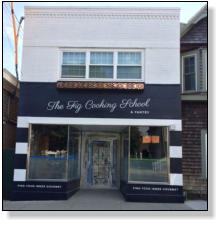 90 feet of trellis we custom made for Doug
Corbaley in Palos Verdes Estates, California.
The Posts are 3" Square aluminum tube and
each section has a 2" square frame with 1.5"
wide x 1/4" thick solid horizontal slats and 1.5"
x 3/4" tubing running vertically to give the
trellis sections more depth. They were shipped
powder coated slightly textured black and a
local artist painted them Verde'.
They look awesome!! They'll look even more awesome when we're done!! I'll send finished pics when we get done.
Thanks,
Diana
Concord, NC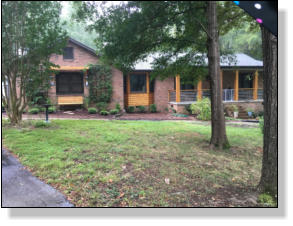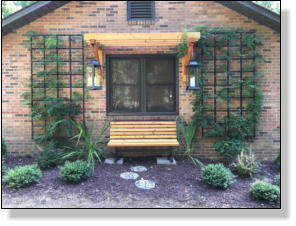 Bruce,
Thanks for fabricating and delivering a superior product. We have installed 2 of the three orders of our last shipment and
the clients have been ecstatic about the trellis pieces. We'll make sure to send you some photos once we make the rounds
to photograph some of the installs. Just wanted to thank you for the great work you do!
Kindly,
Jason D. Galles
Lead Designer + Proprietor
Square Root Garden Design, LLC
m: 773.322.6246 | www.squarerootchicago.com
Thank you so much, Bruce.
They are perfect! We are so happy with our
purchase and really appreciate your
excellent customer service, too.
Betty, West Lafayette IN.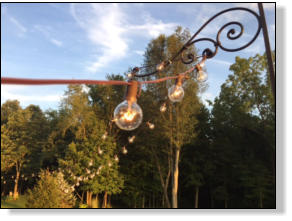 Thanks so much for your
craftsmanship. The hook looks
great in a shaded hook of our
garden and It worked perfectly for
hanging the chandelier to make it
a romantic dining option!
Deborah Savannah GA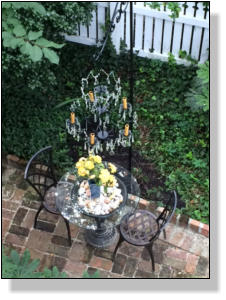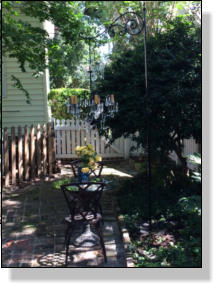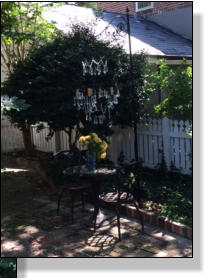 The copper window box works
well and looks great! thanks
for the work.
John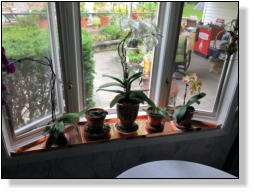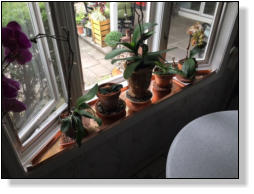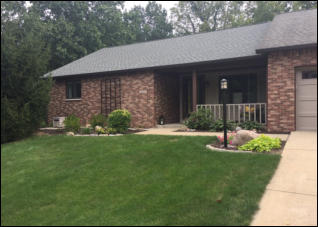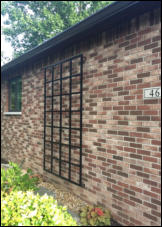 Happy with the results
Thanks for your help,
Cheryl, Lafayette IN
4 Wide x 7' High Grid Trellis powder coated Dark Anodized Bronze.
Hello Bruce,
Trellis looks fantastic! What a great find!
See attached.
Thanks for all your help!
Bill
Charlotte, NC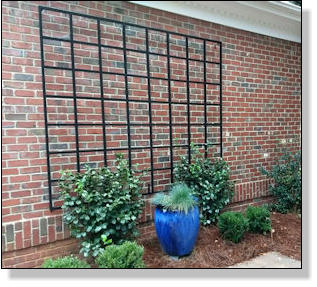 Hi Bruce,
Just to let you know our two trellises were derived by Old Dominion today. They are in excellent condition.
It has been a pleasure to deal with you and your company! Thank you for your attention to detail and for excellent customer service.
Very best,
Michele Hendrickson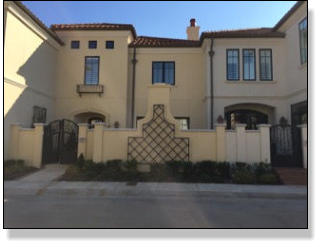 Custom Chimney shaped trellis for S07
condominiums in Ft. Worth Tx.
Bruce: As promised, attached is a picture of the trellis. It was installed yesterday and the Rumble's are very happy with it.
Also attached is a picture of the first trellis that you made for their courtyard. I wasn't sure if you have seen after installation.
It is very nice also!
And most important, I submitted your invoice to our accounting firm yesterday. Please let me know if payment is not received
within a reasonable amount of time
.
I appreciate your patience and willingness to work with us.
Jana Freundlich
S07 HOA
Ft Worth, TX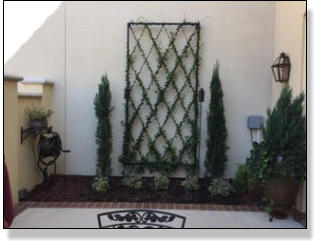 Bruce, hello! It was nice meeting you today. I have unpacked all my trellis and they look AWESOME!!!
Can you please send me those instructions to hang them that you mentioned.
Once I get them up I will send you the pictures.
Thank you
Rob Charlotte NC
Hi Bruce -
We LOVE the way the Driveway Reflectors look in our
subdivision (we installed them this past weekend) and
would be interested in ordering more in the future.
Thank you!
Kassie
Bruce,
We received and installed the trellis and are very
happy with your product.
Looks awesome on our house.
Thanks again.
Have a merry Christmas.
James