Comments & Photos
As Seen on Home and Garden
Networks HGTV's Curb Appeal
Show - Episode #2004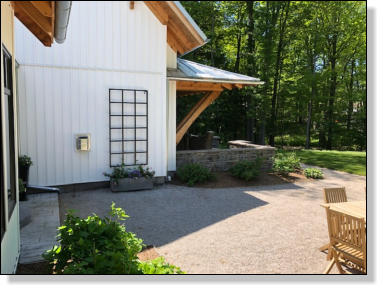 Hi Bruce;
More gorgeous that expected. O flowers yet but it sure looks swell.
Rick
Thanks a lot
3 x 6 grid trellis powder coated Satin Jet Black
Just arrived! What a great packing job! Not hung yet but here it
is in place!
Simply gorgeous! More to follow!
Cyndy
4 x 6 Aluminum wall trellis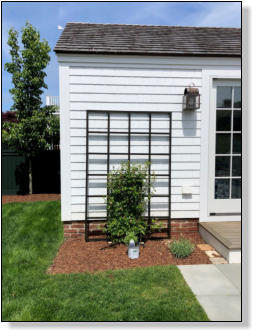 Hi Bruce!
It's been a while since we last chatted, with Bob going into the hospital
a few more times and everything on hold here because of COVID-19.
He's finally feeling much better and we were able to have someone
over today to help us install the trellis. It is absolutely perfect -
everything I wanted - and I couldn't be more pleased. It's hard to see
in the picture because it blends with the fence, but I hope you can get
a good idea of how it looks (FYI, the trellis is level but the fence isn't .
Thank you again for helping me bring my idea to life!
Kind regards,
Lisa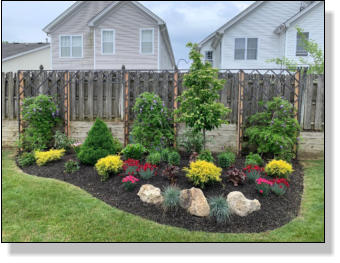 Bruce,
Trellis worked out great in creating a living stand alone wall although one end
is attached to the house. Thanks again for working out the details, the trellis
was exactly what we needed. I am attaching a few photos so you can see how
it all came together.
Gary
Sugar Loaf PA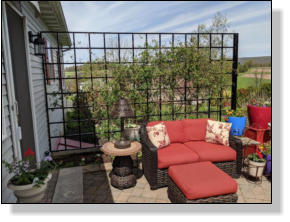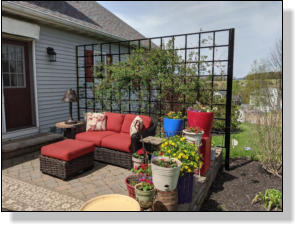 Hi Bruce.
Just wanted to show you the trellises we purchased from you.
Stay safe!
Jennifer
El Paso TX
Powder coated Satin Jet Black with insert-able legs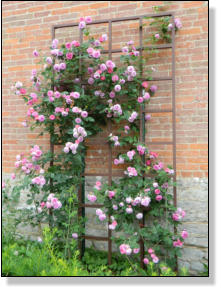 Hi, Bruce,
Here are 2 pictures of your
beautiful trellis installed at the
historic McGuffey Museum with
historic Queen of the Prairie roses.
Beautiful!!!
Thank you for your craftsmanship
and your assistance in ensuring
we received everything we needed
in a timely manner.
Sue
Miami University Art Museum
Oxford OH 45056
Hi Bruce. This is my first swing at
these gorgeous window boxes.
Much prettier than the picture can
show. I'll have to experiment with
the plants. I'm using x4 8" clay
pots. I love them. They're beautiful.
I'll try brighter colors next time.
Thanks so much. They're quality
made. And I appreciate that.
Kelly in Indianapolis IN
36" Brussels Style Aluminum
Window boxes powder coated
Slightly Textured Black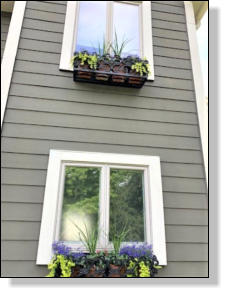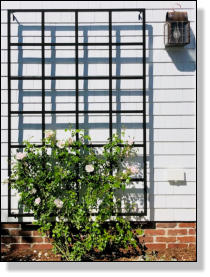 Finally got my review in and will
search around other places to
promote you! Here are some
photos of the trellis hung. I love the
one with the shadow of the trellis on
the wall. Looking at it brings me joy
every day!
Thanks again for making this a
great experience!
All the best,
Cyndy
Edgartown, MA
Bruce,
I received the copper tray that you
made for my antique dry sink. My
wife and I are extremely happy
with it. The green patina that you
applied makes it look as old as the
dry sink. It also fits perfectly!
Thank you very much for the
excellent product.
John
Verde' real copper insert for dry
sink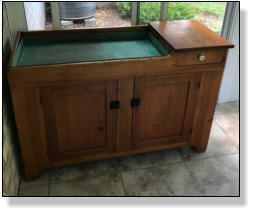 Hello Bruce,
We have been enjoying our
swing thanks to the arbor you
made for us. You are an
amazing artist!
Thank you so very much.
Hope
Custom arbor to go over a
swing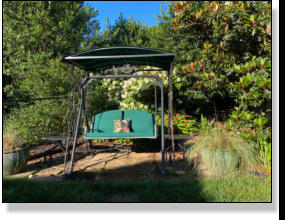 Hey Bruce - Thank you for being responsive,
thorough and delivering on your commitments.
Old Dominion delivered the trellises on
Tuesday. We installed them and the clematis is
being trained.
Have a great summer!
Beat regards,
Paul
Oak Park IL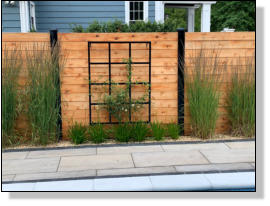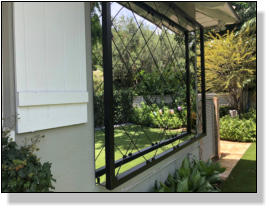 Dear Bruce,
The trellis is installed! I love it.
Attached are a couple of
photos.
Thanks,
-Natalia
Miami FL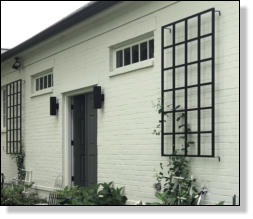 Dear Bruce,
Love these!
These trellises are truly works of art that have added so much beauty to our
home. The high quality of the materials and workmanship is impressive, and
we could not be happier with these beautiful trellises.
Best wishes to the future health and safety of your workers and family and
for the continued success of your business.
Thanks again,
Cheryl
Colliersville TN
Just got delivered an hour ago! Unpacked and in the holes I dug last night.
Just leveling them out and getting ready for some concrete. I'll send you
more pictures when we finish the planting as soon as my landscaper gets to
me!!
Taj
Naperville Il
Custom Trellises with support legs to match framing on second floor window
4' x 8' high powder coated finely textured black.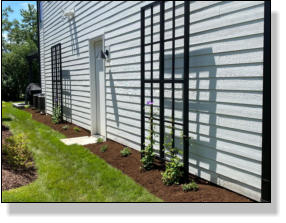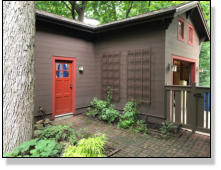 Bruce,
The garden trellis/lattice is beautiful and exactly what we needed.
Thanks for the great product and service.
Jim
Madison, WI
3 x 6 aluminum grid trellis powder coated Finely Textured Rust
Hi Bruce,
Just wanted to share our
trellis photo with you. We love
it. Thank you!
Best,
Christine
Easton CT
3' Wide x 6' High aluminum
grid trellis powder coated
Satin Jet Black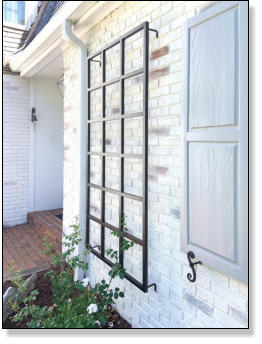 Thanks again for
shipping the brackets
so fast, and the candy
was a nice touch.
Chad
7 Wide x 8 High
aluminum grid trellis
powder coated satin
Jet Black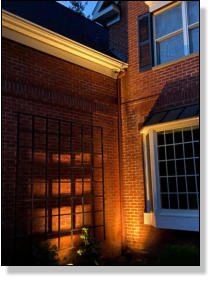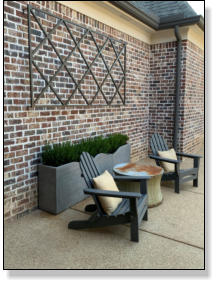 Love our piece of art from you. Looks
perfect on our wall.
Thank you!
Ken, Angie, William
Colliersville TN
Diamond Grid style 4 High x 8 Wide
Aluminum trellis powder coated Gun
Metal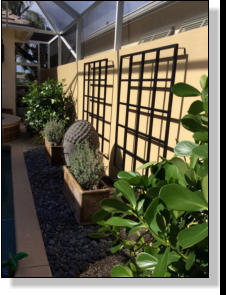 Hey, Bruce. We are more than pleased
with the workmanship, and delivery was
so prompt. Install was quick and easy.
Love love love them.
4' Wide x 5' High Aluminum Grid Trellis
Powder Coated Finely Textured Black
with standard 4" wall brackets
The trellises look great. We haven't hung them yet but can't wait to do so.
Thanks for your great customer service.
Diane
Lawns By Yorkshire
Westwood, NJ 07675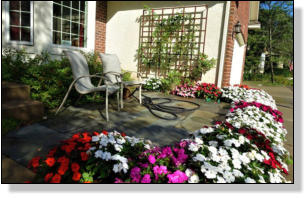 Hi, Bruce –
We ordered a trellis from you about four years ago and
remain very happy with it.
Thank you,
Dan and Fiona
Woodbury, Minnesota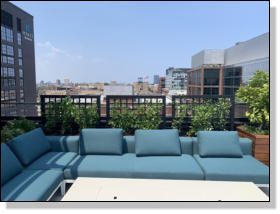 Hi Bruce! Totally random, but I was going through
photos and remembered you liked us to share
with you.
Have a great day!
Gwyneth Owen-Webber
Designer | Director of Horticultural Services
Chicago Specialty Gardens
1765 N Elston Ave Ste 203
Chicago, IL 60642
P: 773-697-9897 #3
C: 414-534-3617
chicagogardens.com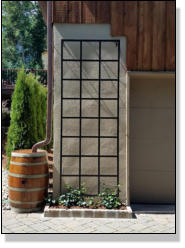 Hi Bruce,
Here's a photo of one of the trellises.
3' Wide x 8' High Aluminum Grid Trellis Powder
Coated Dark Anodized Bze with standard 4" wall
Brackets
Kind regards,
Diane
Lawns By Yorkshire
Woodcliff Lake, NJ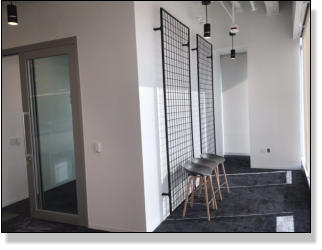 Bruce,
It was a pleasure working with you as well. The metal
trellises looks great.
Best Regards,
Warsame
BayWa r.e. Irvine Office TI (Suite 850)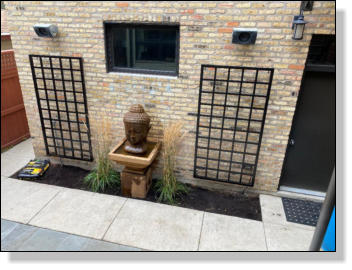 Finally got everything installed just in time for winter!
Thought I share a picture now that they're finally
installed.
Thanks for all the help, Ryan Chicago IL
39.5" x 77" grid trellises powder coated Dark
anodized bronze with 1.5" frame and 1" crossbars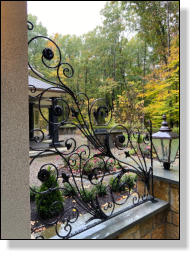 Masterpiece!!
Thanks
Chad - Port Edward NY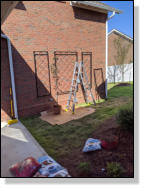 Hi Bruce,
Just wanted to let you know how much we love our
new trellises. You did a beautiful job! They arrived
in fine shape and have made a huge difference in
a courtyard that is dominated by a huge brick wall.
I am now pleased instead of depressed when I
look out the window.
I'll attach a picture of the installation in progress--
we needed a taller ladder to finish! I'll send another
picture once the plants are growing in the spring.
Thank you so much for your fine work.
(Anne) Noelle and Bruce Huntersville AL
Custom 2 x 6 and 4 x 6 Diamond design grid
trellises with 1" frame and 1/4" round crossbars in
Finely Textured Black.
Hi Bruce,
Good news! It arrived in perfect
condition. Good job packing.
We are so pleased, the balcony is a
work of art, it is so beautiful, we
couldn't have asked for anything better!
My husband is coordinating with the
contractor. Photos to follow when it's
up at the windows.
Thank you so much,
Pam and Jamie
Beverly, MA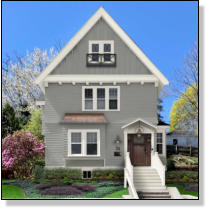 Here are some pics. Love it, Bruce!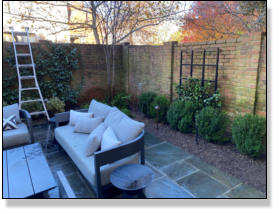 Hi Bruce,
We installed the garden
yesterday. The trellises are
stunning. Everyone is blown
away.
Thank you so much for your
prompt delivery and superior
product. I look forward to
working with you again soon!
Best,
Carole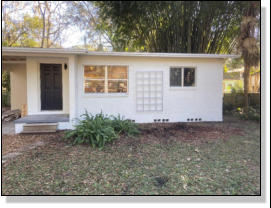 Hi,
Happy New Year!
I wanted to let you know that I
LOVE my trellis. Attached,
please find a photo of it. I am
planting jasmine this weekend.
Thank you,
Eva
Gainesville FL
4' Wide x 6' High Aluminum
Grid Trellis powder coated
Anodized Silver!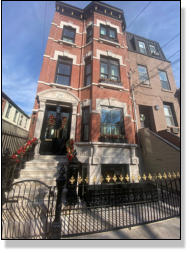 Photo of Winston Style Window boxes and a planter we did for Dr.
Miguel Cunha in New Jersey.
Powder coated in Satin Jet black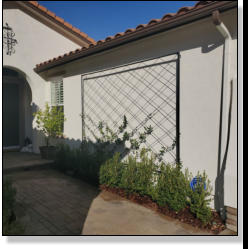 Bruce, it took us a little time to finish
painting and to finish up but here is
a picture I promised of the trellis on
the wall....looks great!!!!
Thanks again for your help in
making this happen!
Marc
Corona CA
120" (10') wide x 84" (7') high
Diamond style Aluminum trellis with
17" diamonds made of 1/4" round
bar with 1" Angle frame to hide the
welds. Powder Coated Finely
Textured Black with standard 4" wall
brackets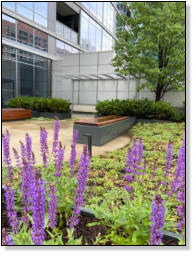 Large Pergola made for Christy
Webber & Company in Chicago IL.
Designed by Tony Butterworth.
The 20' long Aluminum Pergola was
shipped in sections with minimal
assembly on site.
Powder Coated Anodized Silver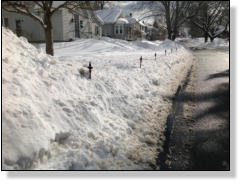 Hi Bruce:
I purchased (6) Large Finial Driveway Reflectors from your
company in the fall of 2019. The purpose of the purchase
was to discourage damage to my lawn by snowplow
operators. As you can see, they are still doing the job.
Thanks again!
Bill
Pittsfield, MA
Large Finial Driveway/Road Markers with red reflective
tape.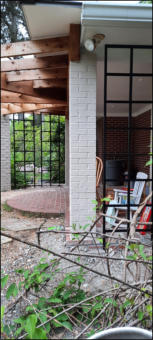 Hey Bruce-
See the below picture for the trellis. Looks
fantastic. The job site is a little messy, but you get
the idea. Steve our project manager also wanted
me to tell you that the packing job was
outstanding.
Thank you for everything. It's tough to order
online and get a feel for quality, but your quality is
evident in your photos so we knew what we were
getting.
Thanks again!
Brian McKinley
2 x 8 satin black wall trellises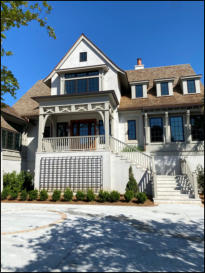 Hi Bruce,
The trellis was finally
installed yesterday at my
Kiawah home. It looks
fantastic! Thanks so much
for your help!
Deb
St Johns Island, SC
7' x11' grid trellis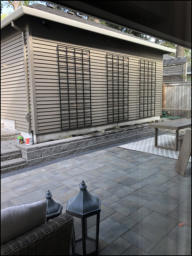 Hi Bruce. The trellises arrived and look
amazing! Attached is a photo of them
before the plants are planted. Glad we
went with that color and size.
Thank you again, for getting them
delivered.
Mary Irene
Lake Oswego, OR
4 x 8' Trellises powder coated Statuary
Bronze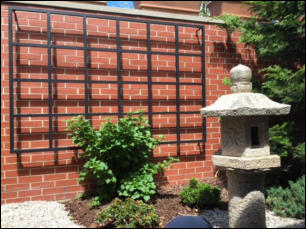 Thanks Bruce.
I am attaching the progression up the trellis over the years. The trellis was
perfectly made and we can't wait to get the next one for our new garden!
Wishing you all the best-
Jim
Rome ME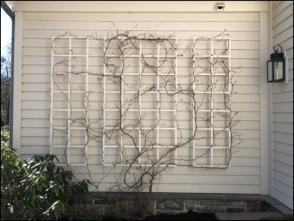 A 4' Wide x 7' High Aluminum Grid trellis with 2' wide
x 7' high Aluminum grid trellises on each side.
I attach an image of one of the installations we
made. It is supporting a Japanese Hydrangea Vine.
From Abigale at Devore and associates Fairfield Ct.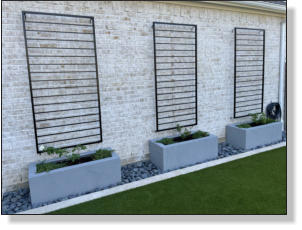 Hi Bruce,
The trellises look great
and turned out exactly
like we had hoped.
Thank you for the great
work! I've attached a
few pictures in case
you want to post any
online.
Mike
Springs, TX
Bruce, we received the final 36" window box today. I just wanted to thank
you. They look great on the front of our house. I also commend you for
your packing. All of them were very well wrapped and packed and didn't
sustain any damage. I've seen how the shippers can throw things around
so your commitment to packing them as you did is commendable.
I enjoyed doing business with you. Thanks again.
Bryan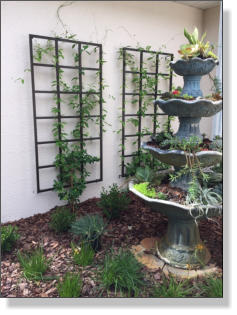 We are very happy with the two trellises we
ordered from you, nice quality, fairly easy to
install, and add a nice touch to our courtyard
entryway. Thank you!
Diane & Gary
Cocoa FL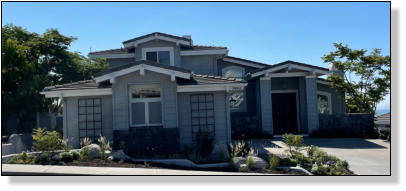 Here's some photos of the Trellises.
Best,
Tanya
Dana Pointe CA.
3' wide x 6' High aluminum Grid trellis in Satin Jet Black.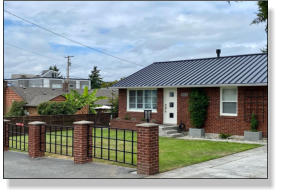 Great idea!
One of our favorite customers. Heather in
Renton, WA just sent a picture of how she
used our 3' High x 7' Wide Aluminum Grid
trellises as a fence.
Great idea!
Thanks for sharing.
3 x 7 trellis
I love my trellises! They add a LOT to that side of my house. I'll send pictures
soon. You have truly been a pleasure to work with. Much appreciated.
JM
Oakland CA
Hi...The box arrived safely and it exceeded our expectations...We hung it this
morning and it looks great...The ugliest window in the house is now the
prettiest...Thanks again...Tom Honeoye, NY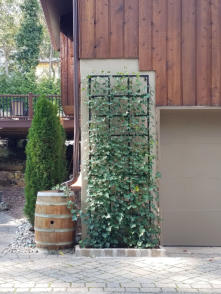 Hi there,
It's been a little over a year that we bought two trellises from you and I
wanted to show you what one of them looks like now with the ivy all
grown in. We get a lot of compliments on the trellises.
Hope all is well,
Diane
Woodcliff Lake, NJ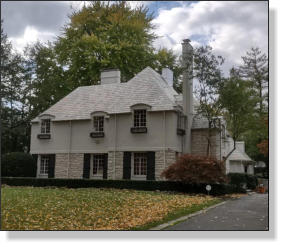 42.5" Chapman style window box with a 1" tube on the
top edge, powder coated Satin jet black.
The Boxes look quite stunning on my home.
Chester Bexley OH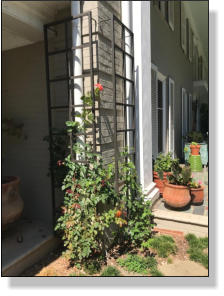 Hi, I wanted to send you a
picture of the trellises I
bought from you this past
spring. The roses are very
happy with them and so
am I.
Thanks
Judy
Aluminum 2' x 8' grid trellis
powder coated Gunmetal.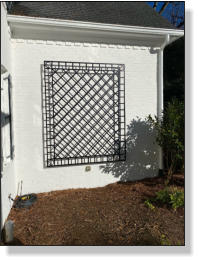 Hi Bruce,
Here's a picture of the mounted
trellis. Getting lots of compliments on
it!
Sven
Atlanta GA
Diagonal 1" flat slat trellis with
Square border. Powder Coated Satin
Jet Black.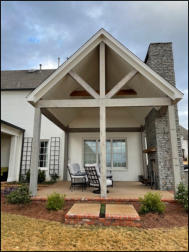 Bruce, I never did send you a pic of last project. This one is not the
best, so I'll take a better one and send to you later on.
2 x 8' Aluminum grid trellises in Statuary bronze.
Keith
Colliersville TN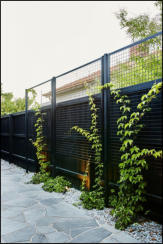 Hello!
I have ordered some
trellis's from you awhile
back, which by the way,
are holding up great.
I was going to see if you
could quote out a custom
job.
Thank you very much,
Amanda Mitchell
Jungle Design LLC
Brooklyn, NY 11249
I have one of your large beautiful wall
trellis mounted onto a brick chimney.
Everyone admires it. I also have an
antique figure hanging from it. I now need
a rose trellis near the same spot. I know
some can come with legs (it can't be
mounted to a wall, its perpendicular to the
wall). Unfortunately I can't find the original
paperwork so I'm unsure of color I chose
for the wall trellis. I would like for it to
match if possible. Would you have easy
access to my original order, probably
about 3 years ago or so?
Thank you,
Anita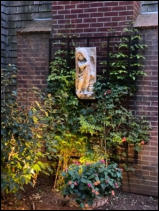 Thank you for the beautiful trellises and the top notch experience! I shared this
with a group of female owned landscape companies who's group I am part of-
we always share great vendors and it is a pretty loyal group. I hope they reach
out as they need products! You will definitely be hearing from us again! Thank
you so much!
Molly Pikarsky, TMCNP
Landscape Manager, Sr Designer
Lawns Ltd. Inc.
1824 Austin Ave.
Waco, TX 76701
Office: 254-752-8122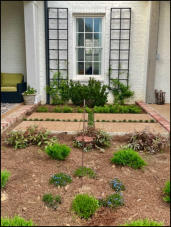 Hey Bruce, heres the pictures I
promised. Look great!!! Thanks
Here's the large one!! When the
vines take off, I will take some
more.
Keith
Just wanted to say our client loves the
trellising and they look great mounted on
his wall. Thanks for the excellent customer
service!!
Best,
Joanna and Alex
Joanna Mullally | Designer & Founder
Gardinia LLC
(206) 715-3601
www.gardensbygardinia.com
They arrived - in tact - and are now at my drive way - hopefully
they will keep the newspaper delivery person from running over my
lights and bushes!
Thank you. Deidre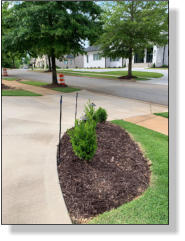 Hi there:
I know this probably seems very
delayed but as promised here are
pictures of the trellis I wanted to
have my yard in better order and
the vine at least growing before I
sent them to you and it took
exactly this long. It looks great
and I get lots of compliments on it
so thank you so much!
Heidi
2 x 6 Aluminum Grid trellis
custom painted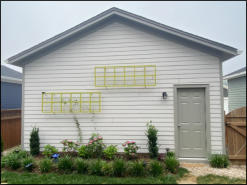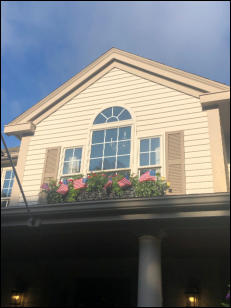 Pleased
Hi Bruce, I just wanted to
thank you again for the
beautiful window box. It
is my favorite showpiece
of my home. I will have
fun decorating it for the
seasons.
This is the first season
with flowers.
Nancy in Plymouth MA
6'2" Wide English style
Window Box with
Galvanized liner both
Powder Coated Satin Jet
Black.
Hi Bruce,
Hope all is well.
I wanted to follow up on the slatted folding-door project that GMW recently
completed for our residence.
After many weeks of delay with scheduling and resources, we have just about
finished the installation.
This has been a challenging project from every dimension.
The good news is that we are very pleased with the result and the fantastic
work that GMW delivered.
As I mentioned in an email weeks ago, I have also included some photos for
your reference.
Please give them a look over and let me know what you think.
Your professionalism and the skills of your team are very much appreciated.
I think the work is a reflection of all of that.
Looking forward to hearing from you.
Best 'til then.
PP
Hello, Bruce!
Hope you are doing well…
We ordered some trellises with
legs from you in April 2021. They
are terrific, and we've had a lot of
compliments on them.
However, we are STILL working
on our yard and have decided we
need one more trellis to create a
balanced look. This trellis needs
to be only 1' wide and 6' tall, with
20" legs. It needs to be Finely Textured Rust.
I've also attached a picture of the other trellises in place. It is a work in
progress, as are all gardens!
I enjoyed ordering from you previously - I'll look forward to hearing from you and
ordering from you again…
Many thanks in advance!
Tom - Pittsburgh Pa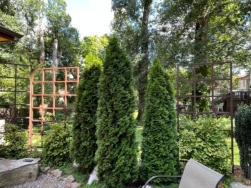 Designed by Melanie at James Farmer Inc. in Cary GA. They have
designed some great projects for us to Fabricate.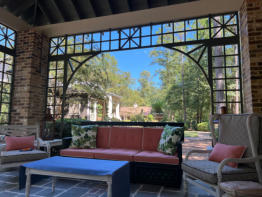 Bruce,
The trellises arrived in excellent condition.
Your workmanship is wonderful- crisp and clean.
This is so pleasing.
Thank you,
Ruth Dallas TX
Hi Bruce,
Thank you for all the support with these reflectors and their finials. The street in front of our house is a long curve. Before
we installed the first set 12 years ago, cars would cut the corner and leave deep ruts in our yard. Besides a few fast
(possibly under the influence) exceptions, these have been very effective in both slowing the traffic and keeping vehicles
on the roadway. And yes, the suckers are a very nice bonus!
Warm regards,
Ken
Reflector link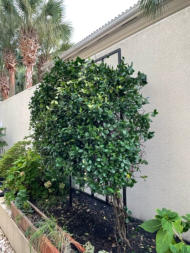 Hi,
Install went great. Here are a few
photos of my Jasmine on the new
Trellis. Great product and customer
service.
Thank you much,
Morris
Myrtle Beach SC
4' Wide x 6' High (not including 18"
legs) Aluminum Grid Trellis Powder
Coated Dark Anodized Bronze with
custom 2 ea. 15" Industrial Wall
Brackets . *** ( TOTAL HEIGHT WITH
LEGS 90")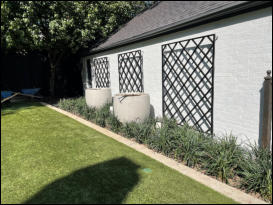 Bruce,
I wanted to send you photos of the
3 trellises you built for one of my
projects. They fit the space
perfectly and the client loves them.
Kristan Wells, PLA
Landscape Architect
fowlkes, norman & associates
Landscape
7520 Benbrook Parkway
Fort Worth, TX 76126
(C) 817-825-7767
(O) 817-249-8084
(F) 817-249-6674
kristan@fnalandscape.com
www.fnalandscape.com
Thanks Bruce. That's a great help. I was very impressed with
Garden Metalwork back when I first ordered the trellises and you
guys continue to impress me as a great company.
Thanks so much.
Mike (Denver CO)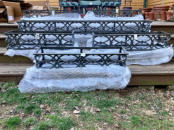 Dear Bruce,
Just wanted to let you know that I got the
window boxes today, and they are gorgeous!
As you said, I am so very pleased! I will send
more pics (nicer ones) once they are
installed. Thank you for a great experience -
I will definitely keep you in mind for future
projects!
Many thanks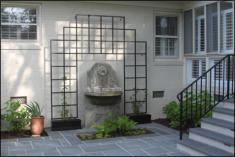 In 2013 you did an awesome job with a custom trellis – I've attached a
picture of it installed. Now I have a client who is looking for (2) trellises,
each 10' wide and 10' tall in a simple standard size grid pattern. They would
like a satin black finish and we will need shipping to Midlothian VA, 23112.
Or it could be (4) 5 x10 units if that is less costly.
Just let me know if you need more info for a quote. Thanks very much!
Drew Harrigan
Landscape Architect